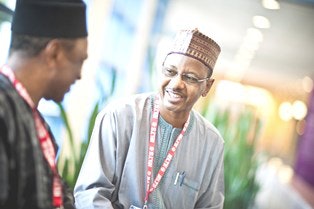 Yusuf Adamu recognizes that he has a "problem" that most of the world's colleges and universities would love to have.
Enrollment at Nigeria's Federal University Dutse, a newly established college located in the country's historic city of Dutse, is at an all-time high, and Adamu—the school's registrar—now has to develop new strategies to accommodate students who want to use their education to become active participants in Africa's emerging economy.
"We don't want to duplicate efforts," says Adamu, who made the 12-hour trek by plane in April to Miami to participate in the Going Global conference. The conference was sponsored by the British Council, an international organization that promotes educational opportunities and cross-cultural relations around the world. "We live in a global world, so we have to find innovative ways to partner with other institutions and learn from them. We see this as an absolute necessity."
Founded in 2011, Federal University Dutse, which boasts a student population of about 1,000, is now looking to become competitive enough to send some of its best students abroad while also becoming a destination spot for students in the United States and elsewhere who want to learn about African culture and history.
"Even as we grow beyond our capacity, we still want to become better known outside of Nigeria," says Adamu. "And we want to form partnerships with other colleges across the globe."
Opportunities abroad
Not long ago, universities—much like their governments—were reluctant to share best practices and strategies with foreign academic institutions looking to replicate successful programs.
But in an age of popular study abroad programs and social media, the isolationist borders have fallen, and collaboration between universities in different nations has become common.
In May, a team of eight Howard University students headed to Romania and Chile, where they spent two months doing comparative cybersecurity research as participants in the National Science Foundation-funded Global Education, Awareness and Research Undergraduate Program (GEAR-UP).
The teams in Romania and Chile were part of a group of 32 science and engineering students from Howard who will conduct research abroad this summer. The program, now in its fourth year, works to grow international engagement of graduates in engineering and science through study and research abroad. It is led by the university's College of Engineering, Architecture and Computer Sciences (CEACS) and sustained through a $5 million, multi-year National Science Foundation (NSF) grant awarded in 2010.
"National statistics suggest that very few African-Americans have the opportunity to travel abroad to study or do research," says Dr. Lorraine Fleming, the GEAR-UP director and a professor of civil engineering at Howard. "Our mission at Howard is to produce leaders for America and the global community. GEAR-UP is doing just that by allowing students a first-hand opportunity to practice as engineers and scientists in a global setting."
British Council
Early on, the British Council became one of the early promoters of cross-cultural exchanges, setting up offices in nations across the world and luring thousands of international educators to its annual Going Global conference. This year, the conference was appropriately titled Inclusion, Innovation, Impact.
"The British Council has been bringing people together and building trust and understanding around the world for 80 years," says Rebecca Hughes, the organization's director of international higher education. "Currently, we work in more than 100 countries, and our 7,000 staff—including 2,000 teachers—works with thousands of professionals and policymakers and millions of young people every year by teaching English, sharing the arts and delivering education and society programs."
The Council's ongoing efforts have helped universities across the United Kingdom attract thousands of college-age students to the country each year to study for a summer, semester or a full academic term.
"We help people gain skills to improve their employability and have the confidence to interact internationally," says Hughes.
Hailed as a model for the promotion of international education, the British Council's work has gained the support of such high-profile U.S. educators as University of Miami President Dr. Donna Shalala and New York University President John Sexton, both of whom spoke at this year's conference. Several U.S. educational organizations, including the American Council on Education (ACE) and American Association of Community Colleges (AACC), also sent representatives to Miami, noting that administrators at two- and four-year colleges across the country have been engaged in conversations over the past few years about how best to prepare students to enter the global market.
Tim Sowula, a spokesman for the Council, says bringing together higher education experts from across the world has led to greater international collaboration and has helped to tackle problems faced by individual nations.
"For example, the UK sector is now currently developing new strategies to support more UK students and researchers to study and work overseas to improve our own international skills and understanding," says Sowula. "Innovations in technology are reducing some of the boundaries to building partnerships, helping to widen inclusion and create better impact. We are confident that, in the future, governments, businesses and institutions will continue to progress in finding ways to build more effective, sustainable and mutually beneficial international partnerships."
African crossroads
The Council has been most active in Africa, where an estimated 11 million young people will be joining the job market every year over the next decade. To stimulate the economy and generate jobs, more of these young people need to be equipped with high-level skills, says Sowula. He adds that, despite rapid expansion of the higher education system in countries across the continent, with enrollments more than doubling over the past decade, overall college enrollment among the population is still only at 7 percent compared to 29 percent worldwide.
Even among those who do enter higher education, the prospects for work remain dismal, with graduate unemployment rates running high in many countries. In Nigeria, where the government recently declared itself to have Africa's biggest economy, nearly a quarter of graduates are unemployed, according to a new report titled "Universities, Employability and Inclusive Development" released by the Council.
"Africa stands at a crossroads in relation to higher education development," the report reads. "If countries can effectively invest in enabling access for increasing numbers of ambitious school leavers, while at the same time ensuring quality provision and successful transition to the workplace, then the sub-continent will reap substantial benefits from the youth bulge. Failing to do so—through maintaining highly restricted access to university level education, or allowing massification to be accompanied by deteriorating quality—will hamper economic growth, weaken democracy and good governance, and leave a generation without the opportunity to pursue their ambitions for a better future."
Despite tremendous gains, officials at the Council say that the importance of global education has to be a priority moving forward.
"Urbanization plus digital communications plus education is a combination that is as revolutionary as railways and the new industrial manufacturing techniques of the 19th century," says Sir Martin Davidson, the chief executive of the British Council. "Suddenly your hard-won skills have value because you are within the reach of jobs and potential customers on the other side of the world.
"But you are also in competition with the best talent in the world," Davidson adds. "The excellence of your local degree and your top-ranked local university will not be enough unless it also connects you to that global market."