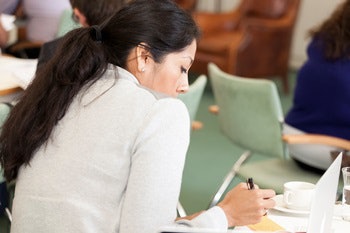 SALZBURG, Austria — For the past few years, Kimberly Reyes has been spending a lot of time thinking about disparity, access and equity issues at American colleges and universities.
Reyes, 33, a third-year Ph.D. student in higher education at the University of Michigan's Center for the Study of Higher and Postsecondary Education, was one of more than fifty participants who journeyed to this small European city to take part in the Salzburg Global Seminar "Students at the Margins and the Institutions that Serve Them: A Global Perspective."
For Reyes, the weeklong experience of trading ideas with scholars concerned about the plight of disadvantaged students across the world has only strengthened her resolve to want to make a lasting impact with students in the United States.
"I think that I'm so fortunate to be able to come here at a time where I am thinking deeply about where I want to situate my scholarship," says Reyes, who worked for several years as an admissions officer at Duke University — where she earned her undergraduate degree — before enrolling into Michigan's doctoral program.
The seminar, convened by Drs. Marybeth Gasman, a professor at the Graduate School of Education at the University of Pennsylvania and director of Penn's Center for Minority Serving Institutions, and Michael T. Nettles, senior vice president and the Edmund W. Gordon Chair for Policy Evaluation and Research at the Educational Testing Service, asked participants to find ways to identify challenges and potential solutions to working with students at the margins of their respective institutions.
By the end of the seminar, which included several panels, group work and informal socializing, scholars from various countries were pledging to find ways to work together despite geographic boundaries.
"We tried to get everyone to think [of the] big picture," says Gasman, who is an expert on historically Black colleges and universities. "We want them to think that everything is possible."
In the upcoming months, Gasman's center at Penn, along with ETS, will be offering four small grants — seed money — of $2,500 to help jumpstart innovative initiatives to foster continued collaborations.
"I think we're going to get good some good ideas," says Gasman. "There were a lot of connections made here."
Gasman said that despite America's ugly and often-vicious history of racism, Americans — even with its reluctance to engage in discussions about race — is further ahead than so many other nations.
"In many countries, people don't want to talk about race or class," she said. "In the U.S., the conversations are often clumsy and awkward, but we are okay with it."
Nelson Bowman III, executive director of development at Prairie View A&M University — an HBCU in Texas — and a participant in the seminar, said that being at this international gathering has forced him to think "across international borders."
The Salzburg Global Seminar, an international nonprofit founded in 1947, has long been concerned with issues relating to education and social justice. Dr. Walter E. Massey, the former president of Morehouse College, served for several years as chairman of the organization's Board of Directors.
Dr. Yousef Jabareen, a law school lecturer at Tel-Hai College and the University of Haifa, said that he now wants to help build an Arab-Palestinian college in Israel.
"It's been rewarding and inspirational being here and talking with others about some of the similar causes and challenges facing cultural and ethnic minorities," says Jabareen, who is from Nazareth. "I'm leaving here with a feeling of solidarity and a determination to challenge the policies of discrimination and exclusion. Our situation in Israel today is similar to what African-Americans in the United States faced in the 1960s."
Nettles says that ETS's involvement in the seminar reflects the organization's efforts of "broadening the measures and thinking about how assessment can be used in the delivery and instruction" of disadvantaged students at the margins.
"It was nice to be able to connect and network with individuals looking at equity in different ways and in different countries," said Dr. Susana Maria Muñoz, an assistant professor of higher education at the University of Wisconsin–Milwaukee. "But what has been transformational for me, is that it's going to be more effective to address equity if we work together globally. Not working in our silos, not just working in our individual countries, but understanding what are the partnerships we can make to really address these issues of equity in a meaningful way, in a transformational way, in a way that's going to be sustainable."
Jamal Watson can be reached at [email protected]. You can follow him on Twitter @jamalericwatson.