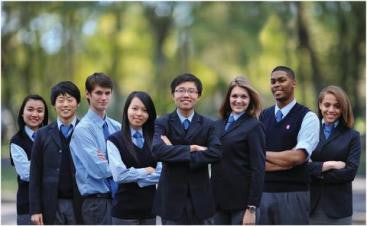 International Education Week kicked off with the announcement of the preliminary Open Doors data for 2013-14. The data catalog the number of U.S. and international students leaving their home countries to pursue higher education. In the past academic year, nearly 900,000 international students studied in the U.S., compared to the 300,000 U.S. students who went abroad.
The Institute of International Education (IIE) has been conducting the report since 1972. This year, trends stayed on track, with an overall continued increase in international studies. The United States continues to be the most popular destination for international students.
"The United States is the number one destination for students seeking an international education. This is a testament to the strength of American universities and their reputations as global centers of innovation, knowledge and leadership worldwide," said Dr. Rajika Bhandari, director of the IIE Center for Academic Mobility Research, in a phone call with the press.
U.S. students studying abroad continue to increase, ticking up 2.1 percent from the year before. "Right now we feel like we have a pretty low percentage of U.S. students studying abroad, and we would like to grow that number," said Evan M. Ryan, assistant secretary of state for educational and cultural affairs. "We think that many students view it as too prohibitive from a cost perspective."
Even so, Ryan sees some improvement in the numbers. "International education is increasingly accessible to traditionally marginalized, under-represented students," she said. According to IIE's estimates, 9.4 percent of all U.S. undergraduates study abroad.
Students from the United States predominantly travel to Europe, although interest in "non-traditional" destinations has been growing. While 53 percent traveled to Europe, 16 percent went to Latin America and the Caribbean, and 12 percent went to Africa in 2012-13. The United Kingdom, Italy, and Spain are the top three most popular destinations for U.S. students.
With regards to which countries send the most students to the United States, China continues to lead the pack. Chinese students represent 31 percent of all international students studying in the United States.
At the APEC summit in Beijing, President Obama announced that Chinese student visas would be expanded from one year to five, which Ryan said would simplify the study abroad experience for Chinese students. "It just enables them to have multiple times to enter here in the United States without reapplying for visas. As a student, that's a real hindrance," Ryan said.
India, which sends the second largest number of students to the US, saw a 6.1 percent increase in students studying abroad. The growth was driven by graduate students. Dr. Bhandari attributes the increase to the rupee's improved economic standing and an apparent declining popularity in alternative study abroad countries, such as the UK.
"Towards 2013 we saw the (Indian) currency stabilize against the dollar, and so I think there are economic factors that resulted in the rebounding of Indian student numbers," Bhandari said.
Kuwait, Saudi Arabia and Brazil saw a large increase in students studying in the US. All three have established large scholarship programs to ensure that more students go abroad. Brazil recently expanded Science Without Borders, a government-funded undergraduate and graduate scholarship program, with the goal of sending 100,000 Brazilian students abroad.