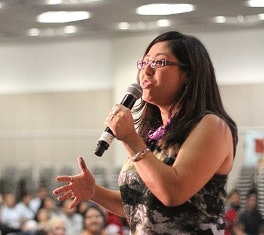 While the newly announced executive action by President Obama to grant deportation relief for millions of undocumented immigrants has largely encountered praise among immigration reform supporters, the youth cohort that attained deportation relief in 2012 under a federal program has found the new measures falling short for not including measures that would help their undocumented parents avoid deportation. As many as five million undocumented immigrants, including parents of U.S. citizens and legal permanent residents, stand to gain protection from deportation under Obama's new immigration policy changes.
The disappointment, however, for Deferred Action for Childhood Arrivals (DACA) program beneficiaries remains even as the president has proposed expansion of the 2-year-old initiative. The Washington-based Migration Policy Institute estimates that DACA, which enables temporary residency for undocumented individuals brought to the U.S. as children, could grow the pool of those covered by the 2012 initiative by several hundred thousand. Between July 2012 and July 2014, an estimated 587,000 people gained temporary deportation relief under DACA, according to the Migration Policy Institute.
Cristina Jimenez, managing director of the United We Dream national immigrant youth organization and an undocumented student in college and high school, characterized the president's immigration action as "tremendous, but to be real, it is incomplete." Individuals who have qualified for the DACA program are often labeled as DREAMers, or belonging to the cohort originally targeted by the federal Development, Relief, and Education for Alien Minors (DREAM) Act legislation had it been enacted into law. Many recent news stories documenting reactions to the Obama plan consistently report on the mixed feelings DREAMers are experiencing.
"Millions of Dreamers have siblings who have U.S. citizenship or green cards so their parents will qualify for this new program—and hundreds of thousands more Dreamers will now be eligible for protection. But too many of our parents, LGBTQ brothers and sisters and friends were left out," Jimenez said in a statement.
Sarah Hooker, a policy analyst with the Migration Policy Institute's National Center on Immigrant Integration Policy, said the DACA program along with state laws and initiatives, which have increased college access and affordability for the DREAMer population, have nurtured high hopes among many DACA beneficiaries to lobby for and anticipate new policies that would help their parents.
"For a couple of years, many of the DREAMers and DREAMer advocacy groups have really been calling for relief for their parents and saying that's really the frontier of their advocacy and that they're not satisfied until their parents also have some relief," she told Diverse.
Since President Obama's immigration policy announcement late last month, the administration has explained that it refrained from extending deportation protection to DREAMer parents even though it's granting relief to parents whose children have been born in the U.S. or have legal permanent resident status. The administration argues that it did not consider it legally justifiable to extend protection to individuals, such as DREAMer parents, whose claims stem from the executive action that afforded the DREAMer children their temporary relief status. In contrast, the legal status of U.S.-born and legal resident children of undocumented parents is considered to have stronger legal standing from which the government can grant the parents temporary deportation relief.
In total, an estimated 3.7 million undocumented immigrants who are the parents of U.S. citizen or legal permanent resident children could receive temporary relief from deportation under the Obama executive action, provided they have been living in the U.S. for at least five years, pay back taxes, and pass a criminal background check.
"Those conditions—such as being a citizen, a U.S.-born citizen—are a status that's created by the [U.S.] Constitution so parents of U.S. citizens is a real category defined by law [while] parents of DACA youth is a category based on an executive action and [something] that the president created. It could be more vulnerable to attack," Hooker explained.
With new age eligibility guidelines, DACA will cover additional DREAMers. Under the original DACA program, young people who had been in the U.S. for at least five years and met specific education and public safety criteria became eligible for temporary relief from deportation as long as they were born after 1981 and entered the U.S. before June 15, 2007. The Department of Homeland Security is expanding DACA so that individuals who were brought to the U.S. as children can apply if they entered before January 1, 2010, regardless of their age today.