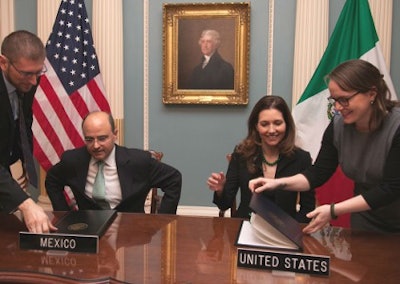 The U.S. State Department and the Mexican national government have agreed to expand academic exchange and internship opportunities for American and Mexican undergraduate and graduate students as well as for recent graduates. Last week, Evan Ryan, the U.S. Assistant Secretary of State for Educational and Cultural Affairs, and Sergio Alcocer, Mexico's Under Secretary for North American Affairs, signed a Memorandum of Understanding to establish the U.S.–Mexico Intern Program.
While acknowledging that internship opportunities that bring Mexican students to the U.S. and those that send Americans to Mexico are not new, officials say the initiative represents an effort to position educational exchange between the two nations as a workforce priority to help make North America "the most competitive and dynamic region" in the global economy.
"Increasing educational exchange opportunities between the United States and Mexico is essential to develop the regional workforce," said a joint U.S. and Mexico statement issued by the U.S. State Department.
"This [memorandum of understanding] supports the direction we're going in right now, which is to try and increase specifically professional skills development within the context of our already ongoing bilateral relationship," said Robin Lerner, the U.S. Deputy Assistant Secretary of State for Private Sector Exchange.
Assigned to the State Department's Bureau of Educational and Cultural Affairs, Lerner manages the Exchange Visitor Program, which annually brings roughly 300,000 foreign citizens to the United States to study, develop skills and teach. Typically, foreign citizens qualify for and obtain the State Department-issued J-1 visa to gain entry to the U.S.
Lerner explained that under the federal government's purview there exists "a very robust array of programs between Mexico and the United States" that cultivates language learning, cultural exchange, and other educational benefits. The new program is designed to "really specifically create tools for young people to develop a 21st century workforce [whose participants] can work in each other's countries," she said.
"A lot of this is about learning language skills; it's about understanding the language of commerce, or business, in each other's countries; and it's about making specific connections with the private sector and academia toward [the industries that are] going to be growing in these countries," Lerner noted.
Officials say the initiative advances the goals of the Bilateral Forum on Higher Education, Innovation and Research (Foro Bilateral Sobre Educacion Superior, Innovacion e Investigacion, or FOBESII). Announced by Presidents Barack Obama and Enrique Peña Nieto in May 2013, the Bilateral Forum seeks to expand educational exchanges, increase joint research on education and learning, and cultivate best practices in higher education and innovation between Mexico and the U.S.
Later this spring, the U.S. and Mexican governments will coordinate a number of events to promote the U.S.–Mexico Intern Program, including a Mexico study tour for professionals from U.S.-based educational institutions and private-sector firms.
As president and CEO of the New York-based Cultural Vistas organization, Rob Fenstermacher praised the U.S. State Department and the Mexican Secretariat of Foreign Affairs for establishing the U.S.–Mexico Intern Program. Cultural Vistas is authorized by the State Department as an Exchange Visitor Program sponsor, which works with foreign governments and higher education institutions to coordinate U.S.-based internships for students on J-1 visas. The nonprofit works with American companies and organizations, which annually provide internships for foreign student interns. Cultural Vistas annually coordinates with companies providing U.S.-based internships that accommodate more than 5,000 foreign interns.
"We're excited by this memorandum of understanding because I think it sets a greater priority for this relationship between our two countries," Fenstermacher said.
For nearly a decade, Cultural Vistas has worked with Mexican technical colleges to place their students in internships with American companies, according to Fenstermacher. "We arrange from 60 to 100 [interns] a year who are coming [from the Monterrey Institute of Technology and Higher Education colleges], mostly in STEM fields," to complete internships at American companies, he said.
Fenstermacher said the MOU will build awareness of the role the U.S. and Mexican governments are taking to encourage and promote educational exchange involving higher education institutions and the private sector.
"By having the government put a focus on this, it highlights the importance of the business ties that we need and should have between our two countries," he said.