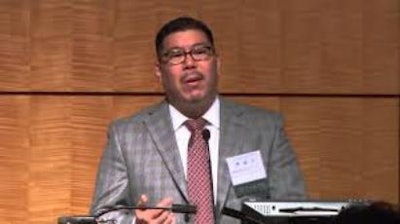 An Obama administration program that gives a temporary reprieve from deportation for certain undocumented students has helped the students access higher education and crucial work experiences, but the students still suffer disproportionately high levels of anxiety under the tenuous arrangement.
Those were some of the key findings of a groundbreaking survey of undocumented students released Tuesday at the Center for American Progress.
"No college or university should assume that these issues are not relevant to their community," Robert T. Teranishi, co-director of the Institute for Immigration, Globalization, and Education at UCLA, said during a panel discussion titled "Inside the Labyrinth: Undocumented Students in Higher Education."
Teranishi is co-principal investigator of the newly-released report, titled "In the Shadows of the Ivory Tower: Undocumented Undergraduates and the Liminal State of Immigration Reform."
The report is based on a survey of 909 undocumented college students across 34 states and originating in 55 countries who are participating in the Obama administration's Deferred Action for Childhood Arrivals program, also known as DACA.
Approximately 650,000 out of an expected one million undocumented students have signed up for the program, which gives the students a two-year reprieve from deportation but must be renewed, an Obama administration official said. Efforts to pass more comprehensive immigration reform have stalled in Congress.
The survey released Tuesday found that undocumented students are in a constant state of concern over deportation.
Specifically, the survey released Tuesday found that:
• Over three-fourths of DACA participants reported worries about being detained or deported.
• Nearly 56 percent reported personally knowing someone who had been deported, including parents and siblings in 5.7 and 3.2 percent of the cases, respectively.
• Undocumented undergraduates reported "significantly elevated levels of anxiety." Whereas normally only 4 and 9 percent of males and females experienced this level of anxiety, among DACA students the levels are 28.5 and 36.7 percent, respectively.
Overall, undocumented students in the DACA program had higher rates of anxiety than their undocumented counterparts who are not in DACA, the survey found.
"While we expected the anxiety levels of DACA recipients to be lower than those of non-DACA recipients, in fact they were elevated," the report states. "We found that 35.4 percent of students with DACA reported anxiety rates above the clinical cut-off point in comparison to 28 percent of non-DACA recipients."
Exacerbating matters are issues of affordability, inability to access federal Pell Grants and federal student loans, and the complexity of navigating higher education systems that vary from state to state and institution to institution, Teranishi said.
Often, he said, undocumented students don't know what information to trust.
"This information is always evolving and changing," Teranishi said. "In addition to constant ambiguity and lack of information about tuition policies, also issue[s] of access to aid [are prevalent].
"This is more of a challenge for students in two-year institutions," he said. "They're more than likely to have to pay out of pocket."
He called on higher education associations to become "frontline providers of information and resources" for undocumented students.
On a more upbeat note, the survey found that 85 percent of students with DACA indicated that it had a positive impact on their education.
More specifically, recipients of DACA — which enables undocumented students to get a work permit — reported higher rates of working, receiving grants and scholarships, and participating in internships than students without DACA.
The internships are important because they are often prerequisites for their chosen fields of study, Teranishi said.
He added, though, that more companies should review their hiring practices to improve access to internships, fellowships and other career opportunities for undocumented students.
This is particularly important since 28.2 percent of undocumented students are majoring in STEM — "clearly a relevant field for the 21st century knowledge economy," said Marcelo Suárez-Orozco, co-principal investigator for the report.
"They yet live in limbo," Suárez-Orozco said of undocumented students. "Many feel … overwhelmed and psychosocially stressed."
Laura Bohórquez, coordinator of the DREAM Educational Empowerment Program (DEEP) at United We Dream, said education and immigration reform issues should be discussed together because of the interplay between the two.
"We're seeing that education and immigration is like a double-edged sword," she said, adding that DACA students are "tasting but not getting relief from policies because of educational requirements."
One of the biggest barriers is lack of access to financial aid, she said.
Daniel Porterfield, president of Franklin & Marshall College, said it's important for elite institutions of higher education to embrace undocumented students, listen to their stories and engage with them in order to help prepare the students to take on leadership roles in society.
He spoke of how his institution decided to "double down" on need-based financial aid four years ago and to search far and wide for talent.
"The DACA students are a part of that talent," Porterfield said. "Our strategy is to find talent wherever it is.
"And it's working because the students who we are finding, who happen to be DACA, are every bit as qualified and successful" as other students, even though they face "higher hurdles" than others, he said.
"By recruiting DACA students, we are strengthening the school as a whole and, at the same time, hoping to contribute to the leadership class of the country for generations to come," Porterfield said.