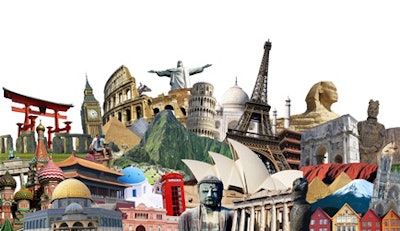 Nearly one million international students studied at colleges and universities in the United States in 2014-15, according to the 2015 Open Doors Report on International Education Exchange (IIE). The report, released on Monday, found that the numbers of international students in the United States jumped by more than 10 percent since 2013-14, the greatest rate of growth in 35 years.
The United States maintains its lead over other countries in terms of attracting the greatest proportion of international students to its academic institutions. Of the approximately 4.5 million students who studied abroad in 2014, 22 percent chose to study in the United States. The UK, the runner up in terms of popularity, attracted 11 percent of students studying abroad.
"It's really a testament to how strong the U.S. higher education sector continues to be, how attractive it continues to be to students from all over the world and how American universities are really seen as global centers for knowledge, innovation and leadership," said Rajika Bhandari, IIE deputy vice president for research and evaluation, at a press briefing in Washington, D.C., on Monday morning.
China continues to be the top country of origin, with 304,040 Chinese students coming to the United States in 2014-15. The most substantial change in international education trends, however, was the number of Indian students studying in the United States. There were 132,888 Indian students studying in the United States in 2014-15, up from 102,673 in 2013-14.
In terms of students leaving the United States, certain trends remained consistent. The majority of American students who study abroad do so for short-term visits. Only 3 percent of U.S. students participated in a long-term study abroad experience, while 62 percent and 35 percent took part in a short-term and mid-length study abroad experience respectively in 2013-14.
Dr. Scott Manning, dean of global programs at Susquehanna University in Pennsylvania, said in a phone call that short-term study abroad experiences may not be as immersive as long-term ones but they nevertheless can be effective for introducing students to new cultures. At Susquehanna, the minimum duration of an exchange program is two weeks.
"The way we [developed our programs] was we focused on a single set of learning goals, no matter whether they go for a short period or a long period, and that has worked really well. What that means is even if students go for a semester, or even if they go for two weeks on a faculty-led program, they're all based on the same learning outcomes," Manning said. "The short programs, I think, actually in many ways are much more intentionally designed so that everything that the students do during that really intensive period is really focused on achieving those learning goals."
Susquehanna is one of a number of colleges and universities in the United States that require students to take part in an abroad or cultural exchange program as a condition of graduating. Goucher College in Maryland was the first four-year liberal arts college to make study abroad mandatory in 2006.
The number of U.S. students going abroad continues to rise steadily year by year. More than 300,000 American students studied abroad in 2013-14, a 5 percent increase from the previous academic year. The top destinations for U.S. students remain the UK, Italy, Spain, France and China.
Historically, the demographic profile of the typical U.S. student who chooses to go abroad skews White and female. The gender split was 65.3 percent women and 34.7 percent men in 2013-14. However, the racial diversity of students studying abroad has improved. The proportion of racially diverse students going abroad was 26 percent in 2013-14, up from 16 percent in 2003-04.
Staff writer Catherine Morris can be reached at [email protected].