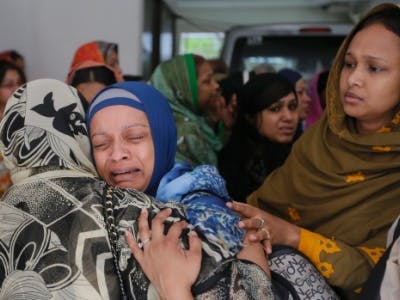 2016? It's been no freedom summer. If anything, it's been more like a summer of terror.
And we're not talking sharks.
From Orlando, to Turkey, to Bangladesh, the news of another violent outburst has marred the season those in higher ed usually associate with down time.
Professors on holiday. Students on exciting internships. They all come back in the fall.
No one is supposed to die at the hands of our modern-day nemesis, global terrorism.
But as officials name the victims of the hostage situation in an upscale café in Dhaka, Bangladesh, three U.S. college students have been identified.
Tarushi Jain, 19, was a student at the University of California, Berkeley. She was visiting her father, a businessman in the garment trade.
Abinta Kabir, a sophomore at Emory University in Oxford, Georgia, was also killed, according to a report by NBC News. Kabir lived in Miami and was visiting family in Dhaka.
Faraaz Hossain, from Dhakka, was also among the dead. Identified by Emory University as a second student, Hossain graduated from Emory and was enrolled in its business school.
They were part of a new wave of Bangladeshis who are trying to make a difference for themselves, their families and the world.
If you know Bangladesh, then you know it became independent from Pakistan in 1971. But the first wave of Bangladeshi immigrants to the United States began to arrive in 1974.
Today, there are around 500,000 Bangladeshi Americans, many of them in the New York/New Jersey area. When visiting the city, I've often struck up many conversations with Bangladeshi cab drivers.
One driver in his 50s was a proud papa who told me how he provided a real life for his kids. Through his driving, he had sent three kids to college, all of whom were now working in accounting and nursing in America.
Jain, Kabir and Hossain weren't supposed to be much different.
It's just that they were among the 35 people taken hostage on a Friday night during the holy month of Ramadan. Gunmen took over the Holey Artisan Bakery in Dhaka's diplomatic zone.
After the 10-hour standoff, police killed six of the attackers, but 20 of the hostages had died.
The attack was claimed by the Islamic State group. Officials said one of the militants was arrested.
Bangladesh has been a traditionally moderate Muslim-majority nation, but has seen increasing violence in recent months.
The student innocents who lost their lives should be another wake-up call for those in higher ed.
The world is in grave need for light and knowledge; it's the stuff that might get us closer to bridging gaps of understanding and solving our ills.
That's higher ed's job, worldwide.
When terrorism rears up, ignorance wins.
When you start again in the fall, think of Jain, Kabir, Hossain.
They were all bound for better lives through their passage way of choice: higher education.
But old-world politics got in their way.
Emil Guillermo is a journalist and commentator. He blogs at http://www.aaldef.org/blog; visit him at http://www.twitter.com/emilamok.