Over 20 years ago, while helping prospective international teaching assistants at the University of Virginia (UVA), Elizabeth Wittner discovered that their opportunity to speak English on campus was very minimal.
She eventually established the Volunteers with International Students, Staff and Scholars (VISAS) program under the university's Center for American English, Language and Culture where international members of the UVA community could hone their English communication skills and learn more about American culture.
The VISAS program is open to undergraduate students, graduate students, researchers, scholars, faculty, staff, employees and family members of the UVA community who want to practice their language literacy or adjust to teaching in the United States through demonstrations, discussions and during office hours.
"Everyone is wedded to their screens and it is very hard for people to look up and out and connect with each other," said Wittner, the academic director and international TA program coordinator for VISAS. "Small talk has become even more difficult. I think these structured sustained conversations are really important."
Participants are paired with student volunteers to improve their English communication skills. To assist with English learning, volunteers often use scenario work to make it applicable to the participant's daily lives.
"To be able to do something as low stakes as literally just speaking in my own language but the impact that it can have on helping others feel a little more comfortable and a little more confident during their time in the United States is so invaluable," said student volunteer Erin Sutherland.
As a language learner herself, student volunteer Isabelle Burke empathizes with the participant's experiences and frustrations.
"Just how rewarding it can be when you do finally communicate effectively, when you get your point across in a language that's not your first one," she said. "I've just really appreciated getting to have the perspectives that I could gain from working with these students and from hearing about not just their experiences learning English but also just what their lives are like in Charlottesville."
The VISAS program progressed naturally overtime as new needs continued to rise on campus.
One of the key components in developing one of the programs under VISAS was the number of refugees living in the Charlottesville community and working at UVA, according to Wittner.
According to the United States Census, it is estimated that nearly 12 percent of Charlottesville residents are foreign-born. The number of foreign-born residents in Charlottesville increased from 3,107 in 2000 to 4,972 in 2010. In 2015, it increased to 5,247, peaking at 5,366 in 2013.
Charlottesville is a hub for the International Rescue Committee (IRC), which works with refugees to help them rebuild their lives. IRC also offers language interpreters and help with the United States citizenship process.
With the number of international service workers on UVA's campus, Wittner said that it was necessary to include them so the Workplace English as a Second Language (ESL) program was established.
"We decided that this is part of our community, these people are an integral part of our community," said Wittner. "It seemed to fit absolutely into what we were doing."
She found that the program was benefitting both the student volunteers and the service workers.
"Student volunteers get so much out of working with people who take care of so many things on the grounds and they otherwise wouldn't get to know," said Wittner. "It's great for the student volunteers, it's great for the workers who often times have to put together multiple part time jobs and can't get daycare and can't get to English classes and really need the services. But beyond that, the relationships are really gratifying."
Overtime, VISAS has continued to grow. Other programs include the Language Consultant Program, Classroom Consultant Program, Teaching Consultant Program, the ESL Assistant Program, and VISA Café.
There are now over 300 participants and over 200 volunteers.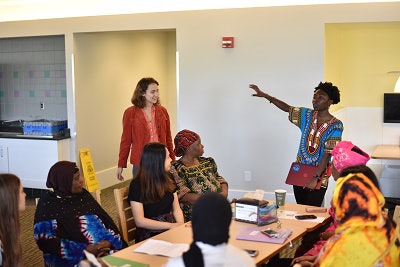 For VISAS workplace learner Sing Pi, the program helped him feel more at home in the U.S.
Back in his home country of Myanmar, Pi was a professional electrical and music engineer. But his life changed after having to flee to Singapore as a political refugee.
Shortly after, he was forced to move to Kuala Lumpur, Malaysia. Eventually, Pi received refugee status and resettled in the United States in 2011. However, he found that both his technical certifications and two college degrees were not recognized by the U.S.
His adjustment into the U.S. was not easy, especially with the language and cultural barriers.
"I have found that while some individuals are very nice and welcoming, others look down on me," he said. "Those who look down on me choose to ignore my presence and not engage in a potential friendship. I know what I feel in my heart, but many times I struggle to explain my feelings to others."
While at UVA, he decided to participate in the VISAS program and was able to further develop his English skills. The program allowed Pi to be able to meet and connect with other people. Every year, he visits his old partner from the program in Virginia Beach.
Similar to Pi, many participants have found confidence through the VISAS program.
"I hope all the new international students can have a chance to know and join VISAS," said VISA participant Meiyi Ma. "It is the best program I attended in UVA. Now I could talk to the native speakers, teach classes, give presentations in big international conferences confidently. I could not do any of these without VISAS's help."
Wittner hopes that other universities are influenced to create similar programs on their campuses.
"It's a time that we really need to be very deliberately and consciously welcoming people to our universities," she said.
Sarah Wood can be reached at swood@diverseeducation.com.