IRVINE, Calif – Women dressed in black lit candles arranged in the numerals "176," the number of passengers who died on the Ukrainian airplane mistakenly struck down by Iran last week, on campus at the University of California Irvine.
Hadi Khodabandeh, a second-year doctoral student in computer science, watched the flames flicker outside the humanities building. He lost two friends in the crash, Arash Pourzarabi and Pouneh Gourji, former students at Sharif University of Technology in Tehran, where he got his bachelor's degree. The couple, studying in Canada, went to Iran for their wedding. The airplane was headed for Kyiv with a connecting flight to Toronto.
He still has his last message to Pourzarabi on his phone.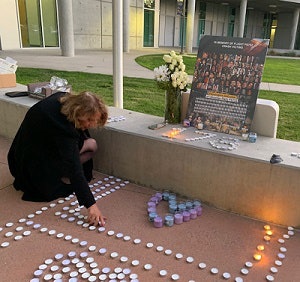 "I texted him, 'Are you ok?'" Khodabandeh said. "He never responded back."
On Monday night, Khodabandeh attended a gathering for Iranian and Iranian American faculty, students and staff held by the school's Dr. Samuel M. Jordan Center for Persian Studies & Culture. Over 120 people crowded into the lecture hall, many standing on the sides and in the back, before spilling outside to light candles.
There, faculty and administrators spoke about the toll recent events in Iran have taken on students.
Many Iranian Americans worry for their families amidst tensions between the United States and Iran – escalated by the targeted killing of Iran's Maj. Gen. Qasem Soleimani – and unrest over the Iranian military's delay in taking responsibility for the Ukrainian airplane crash.
Dr. Touraj Daryaee, Maseeh Chair in Persian Studies & Culture, described office visits with staff and students with Iranian visas "terrified by the prospect of war and what will be."
"I think it's quite important that in every university where Iranians reside, that we come together regardless of our beliefs and views," he said. "I think this is a time to be together."
Other speakers included Dr. Douglas Haynes, vice chancellor of the university's Office of Inclusive Excellence and the director of the UCI ADVANCE Program.
Haynes called the situation in Iran "tragic" and "troubling," leaving Iranians in the U.S. feeling "particularly vulnerable."
"At this time, I want to underscore UCI's commitment to the idea of inclusive excellence, and I want to underscore that it unambiguously extends to the Iranian American community and visitors from Iran," he said. "I think it's appropriate for me to share these thoughts, but it's far more important for me to listen and to learn how this campus can be more and a greater support to the community."
California is home to almost half of the Iranians in the United States, according to U.S. Census Bureau data. Orange County, where UC Irvine is located, accounts for about 18 percent of California's Iranian community.
That strong campus presence has been a source of comfort for UC Irvine's Iranian and Iranian American students.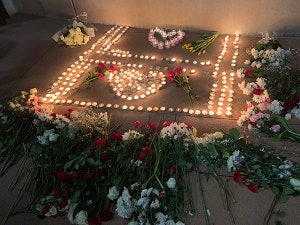 Aryasp Nejat, a third-year biology major, lost two of his cousins in the airplane crash. And while he couldn't go to Iran for the funeral, he found some catharsis in the event on Monday.
The gathering was a way to be "around my community at a time when it's so difficult, especially as an Iranian American student in college, to find others you can find consolation with," he said. "Seeing this event really helped me realize just how powerful that community can be in helping people heal at a time of pain and sorrow."
Nejat's immediate family lives out of state and most of his family is still in Iran, so he was particularly grateful to find a support network on campus.
"Yes, I lost two family members in the crash," he said. "But everyone lost family, because all of us are a family together."
Still, he said he and other Iranian American students find themselves feeling "very uneasy." Nejat is afraid he won't be able to travel back to Iran to see his family. He worries for their safety and wishes he could be there to console them.
"I'm fearing the unknown right now," he said.
He also feels a disconnect from his classmates, who don't necessarily know what's happening.
As an Iranian American, Nejat finds himself in this "weird middle space," he added, distant from the experience of Iranians born in Iran but also surrounded by American friends "who don't understand the gravity" of the situation or how it impacts students like him. He'd like to see the university engaging non-Iranian students and showing public solidarity.
"They should actively be participating in what's going on, understanding what happened and how it can affect those around them," he said.
Khodabandeh also felt buoyed by the event but thought an official statement from the university would help students like him "feel a part of the community" as they mourn lost friends and family from afar.
"They were students," he said, looking at the candles. "They were innocent people. It's really hard."
Sara Weissman can be reached at sweissman@diverseeducation.com.