The number of students engaging in international education is rising, perhaps even more so than before the COVID-19 pandemic, according to data from Institute of International Education (IIE).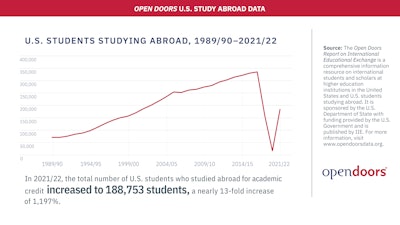 The U.S. Department of State-sponsored Open Doors 2023 Report on International Educational Exchange – released Nov. 13 – details the trends for U.S. students studying abroad and international student enrollment, illustrating how both are seemingly on the rise after significantly declining amid the pandemic.
Among U.S. citizens and permanent residents, students from U.S. higher ed institutions are again studying abroad as part of their academic journeys, according to the data. During the 2021-2022 school year – when travel and study abroad programs were still affected by the pandemic – 188,753 students pursued opportunities abroad for academic credit, marking a drastic rebound from the 2020-2021 school year total of 14,549.
Before the pandemic struck, there had been a steady increase in the amount of American students studying abroad, with over 347,000 students doing so in the 2018-19 school year, IIE research specialist Julie Baer said in the report. But the pandemic prompted many schools to suspend such programs, leading to a 96% decline in U.S. study abroad between 2018-19 and 2021, she said.
"The more than 188,000 U.S. students studying abroad as of 2021-22 year represents a nearly 13-fold increase from the low of approximately 15,000 study abroad students in the prior year," Baer said. "This rebound showcases how study abroad is more than halfway back to pre-pandemic levels."
Study abroad opportunities of all durations increased. Students going abroad during their summer 2022 terms saw the largest growth – an 84,003-student increase from 2020-21's 8,421 students to 2021-22's 92,424.
Europe was most students' destination of choice. During the 2021-2022 school year, 138,007 students traveled and studied in Europe – it was 9,647 the year before – while 19,387 chose Latin America and the Caribbean and 8,892 chose Asia. And most of the students going outside the U.S. were those studying business and management (39,220), followed by social sciences (33,178).
Through the two academic years, white students continued to be the vast majority of those who study abroad (68.6%), while Black/African American students saw an increase – from 4.1% to 5.3% – and both Asian/Pacific Islander and Hispanic/Latino students experienced slight decreases.
As for international students seeking to study in the U.S., the numbers indicate that students still view what the nation offers as desirable, with 1,057,188 international students either enrolled at U.S. higher ed institutions or working via the Optional Practical Training (OPT) program during the 2022-23 school year. This year's number marks a 12% increase from 2021-22's 948,519 students, the fastest growth rate observed in more than 40 years.
"There is plenty of room for international students in the United States, and at 6% of total U.S. higher education, we can continue to host more international students at all academic levels and on OPT," said Dr. Mirka Martel, IIE Head of Research, Evaluation and Learning.
The students were from more than 210 places of origin, most coming from China (289,526) and India (268,923). Those from the latter nation also reached a record high of 268,923 students in 2022-23 after experiencing a 35% increase from the previous school year's 199,182. Of all the regions from which students came, Sub-Saharan Africa saw the highest rate of growth (18%).
India was not the only place of origin who reached an all-time high during this influx, according to the findings. Eight of the top 25 places of origin for international students in the U.S. – Bangladesh, Colombia, Ghana, India, Italy, Nepal, Pakistan, and Spain – reached all-time highs as well.
The number of international students enrolling for the first time at a U.S. school seemed to also follow this upward trend. For the 2022-23 school year, the count went beyond pre-pandemic levels and nearly reached a record high – 298,523 from 261,961, the latter itself being an 80% jump from 2020-21's 145,528 students.
Additionally, the number of international students staying in the country post-graduation for practical work experience on OPT rose 8% to 198,793 during 2022-23, according to Martel.
Most international students continue to study at the graduate level, a sector that saw a 21.3% increase to 467,027 students from the previous year. However, the sector is beat by those studying in non-degree programs, such as intensive English, exchange, or certificate programs, according to the report. That sector has experienced the largest ups and downs, seeing a 28.2% increase for 2022-23 after a 61.4% increase for 2021-22 and a 63.7% plummet the year before that.
"95% of international students in 2022/23 were physically studying on U.S. campuses, showing the preference of international students to travel to study in the United States," Martel said. "We continued to see COVID-19 restrictions affect inbound mobility from some places of origin, including China. We anticipate that as a result, we may continue to see further rebounds in the future."