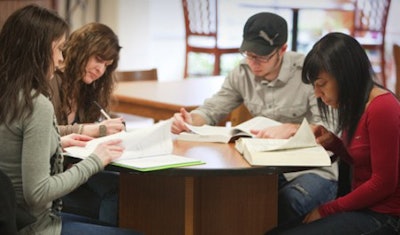 NASHVILLE, Tenn.—State higher education officials are hoping to boost college graduation rates in Tennessee by helping students who transfer from community colleges to four-year institutions get the associate degrees they may still lack.
The state currently doesn't have a system for students who transfer from community colleges to receive an associate degree after they arrive at their new four-year school.
But The Tennessean reports a so-called "reverse transfer" program would allow students to collect that degree credential when requirements are met in pursuit of a bachelor's degree.
A pilot run of the program is set to begin in the fall. Officials hope to fully roll it out in the spring of 2015 and involve every public higher institution in Tennessee and some private schools.
"It's all about advancing the numbers of people with post-secondary credentials, and this is an approach that allows us to do that," said University of Tennessee System President Joe DiPietro.
The program is a collaboration of the UT system, Tennessee Board of Regents, Tennessee Independent Colleges and Universities Association and Tennessee Higher Education Commission.
Assisting the reverse transfer effort is a two-year grant of nearly $400,000 from the Indianapolis-based Lumina Foundation, a private foundation that seeks to increase the number of Americans who attend college.
Gov. Bill Haslam also included a $300,000 appropriation in his budget last year to partially underwrite startup costs. The program ties into his initiative to increase the number of Tennesseans with at least a two-year college degree or certificate.
Currently, 32 percent of Tennesseans have a two-year degree or higher, and Haslam's goal is to raise that number to 55 percent by 2025.
While roughly 2,300 students who transfer each year from community colleges have accumulated 45 of 60 required hours to graduate, officials believe 1,300 of them would become eligible for an associate degree under the reverse transfer program.
It could also help two-year institutions financially because they would get to count reverse-transfer graduates in their figures. A revamped funding formula rewards colleges for higher graduation rates.
"There is a benefit there," DiPietro said.
Officials say Oregon, Maryland, New Hampshire and Michigan are among the states that have launched or plan to initiate some version of reverse transfer.
"Ours is different because we're trying to do it statewide from the get-go and include not just the public but the private institutions as well," said Katie High, UT vice president for academic affairs and student success, who chaired Tennessee's reverse transfer task force.
High said community college transfer students who collect their associate degree have graduation rates that are 10 percent higher at four-year colleges than those who don't. She estimated half of community college transfer students are taking classes part-time, balancing school with work.
"When they get that associate degree, it's like a motivator for them," she said.