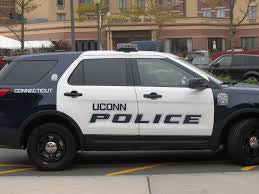 STORRS, Conn. ― The University of Connecticut will pay $1.3 million to settle a lawsuit by five women who alleged the school did not take seriously their claims of sexual assaults on campus.
The bulk of the settlement, $900,000, will go to Silvana Moccia, a former UConn ice hockey player who alleged she was kicked off the team after reporting she had been raped by a male hockey player in August 2011.
The other four women will receive payments ranging from $25,000 to $125,000.
University officials adamantly denied that they have been indifferent to reports of assaults and did not admit any wrongdoing in the settlement. They said the legal fight would be costly and bad for UConn's image.
"It was clear to all parties that no good would have come from dragging this out for years as it consumed the time, attention and resources ― both financial and emotional ― of everyone involved," said Larry McHugh, the chairman of the school's Board of Trustees. "In order to do this, compromise was required on both sides, which is reflected in the settlement. I hope this resolution will help the students find closure on this issue."
The university remains the subject of a Title IX investigation by the U.S. Education Department's Office for Civil Rights.
The high-profile case is one of several underscoring the issue of sexual assaults on campuses across the country. The prevalence of sexual assaults on college campuses took on new focus in the wake of the Jerry Sandusky case at Penn State and after a high-profile battle on Capitol Hill about military sexual assault led college campus assault victims to demand the same attention.
Sexual violence investigations are pending at nearly 70 postsecondary institutions whose actions, policies and procedures are being questioned.
Colleges and universities need to do a better job investigating sexual assaults, said Christopher Mallios, an attorney at Washington-based AEquitas: The Prosecutors' Resource on Violence Against Women. Schools should have investigators who are trained by experts who know how traumatizing sexual assault is, he said.
"You're dealing with victims of sexual trauma. The last thing you want to be doing is re-traumatizing the victims," Mallios said.
The UConn lawsuit alleged discrimination based on gender and retaliation in violation of Title IX, which guarantees equal educational opportunities to students at schools that receive federal funds. It sought unspecified monetary damages and changes in university policies.
The two sides issued a joint statement, which includes an acknowledgment by the plaintiffs that "certain UConn employees provided compassionate care and assistance to them," although they alleged the response of the school as a whole showed deliberate indifference.
UConn officials detailed steps the school has taken to ensure women can report sexual assaults to police or schools and receive proper guidance and counseling.
"This lawsuit may have been settled, but the issue of sexual assault on college campuses has not been," President Susan Herbst said. "Our hearts go out to all victims of sexual violence. The University has taken many positive, important steps in the battle against sexual assault in recent years, which are described in the joint statement, but there is still more to be done."
The U.S. Education Department's Office for Civil Rights began the Title IX investigation in December based on complaints by four of the plaintiffs and three other women.
Department spokeswoman Dorie Nolt said Friday the office will continue to investigate "whether the university responded promptly and effectively to complaints and other information related to sexual violence and sexual harassment that may have subjected students to a sexually hostile environment." That investigation could result in the loss of federal funds for the school.
School officials said they would continue to cooperate with that investigation.
One plaintiff, Kylie Angell, said a police officer told her, "Women need to stop spreading their legs like peanut butter or rape is going to keep happening until the cows come home."
Angell said Friday in a written statement that it was healing for her to see her claims taken so seriously.
"I look forward to seeing UConn continue to respond with such seriousness to reports of sexual assault, with the hope that future women who find themselves victims of sexual assault will be empowered by reporting to a university that supports them and protects their rights," she said.
Angell receives $115,000 in the settlement. Carolyn Luby will get $25,000; Rosemary Richi receives $60,000 and Erica Daniels receives $125,000. The Associated Press normally does not release the names of victims in sexual assault cases but the women decided to make their names public.
None of the men involved in the complaints ever faced criminal charges. The assaults allegedly occurred between 2010 and 2013.