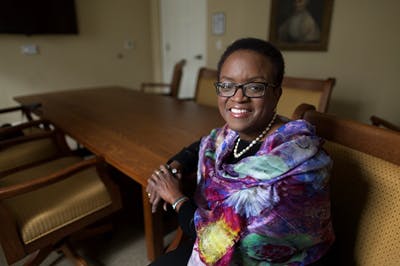 The appointment of Dr. Valerie Smith as the 15th president of Swarthmore College is being hailed by scholars as a major breakthrough for African-American women in the Academy.
On Saturday, Smith—a distinguished scholar of African-American literature and culture and the dean of the College at Princeton University—received  the unanimous vote of the school's Board of Managers to lead the 1,500-student liberal arts school located in a suburb of Philadelphia. She will assume the post on July 1.
Smith will be the college's first African-American president.
"Valerie Smith is a respected scholar and a wise, effective leader with impressive accomplishments that closely align with Swarthmore's values: access and affordability, dynamic undergraduate learning opportunities, and educating students to be leaders who value the common good," said Giles Kemp, the Chair of Swarthmore's Board of Managers. "Her colleagues consistently praise her judgment, integrity, and commitment to making a liberal arts education accessible to all students."
Smith's colleagues at Princeton praised her research and administrative skills and said that, as founding director of the Center for African-American Studies from 2006 to 2009, she was instrumental in its expansion.
"Although we are sad to see Professor Smith leave Princeton, this is an extraordinary opportunity for her and Swarthmore," said Dr. Eddie S. Glaude, the William S. Tod Professor of Religion and African American Studies, Department and Chair of the Center for African American Studies at Princeton. "Her appointment, much like that of Dr. Ruth Simmons at Smith and Brown, has historic significance. The landscape of higher education is changing daily, and we now have a leading light at the helm of one of the most important liberal arts colleges in the country. That brings a smile to my face."
Smith, a native of Brooklyn, arrived at Princeton in 1980 as an instructor in English and African-American Studies, eventually earning tenure in 1986. Three years later, she left Princeton to join the English faculty at UCLA but returned to Princeton in 2001 as the Woodrow Wilson Professor of Literature and Professor of English and African American Studies.
In 2011, she was named the senior officer responsible for Princeton's undergraduate academic program.
Smith, who earned her Ph.D. from the University of Virginia, could not be reached for comment. But in a statement released by Swarthmore, she said that she welcomed the opportunity to lead Swarthmore into the future.
"I have experienced and witnessed firsthand the power of the liberal arts to encourage critical thinking, discovery and innovation; to help us ascertain what makes life meaningful; and to function as an engine of social mobility and change," said Smith. "With its profound commitment to students' academic, social and ethical development, to the recruitment and retention of an outstanding faculty and staff, and to civic responsibility and social justice, Swarthmore exemplifies the best that the liberal arts model has to offer. I am honored to lead the college into its next phase of distinguished progress."
Smith replaces Dr. Rebecca Chopp, who left the school last summer to become chancellor at the University of Denver, after five years on the job. Dr. Constance Cain Hungerford, the former Provost of the College from 2001 to 2011, has been acting as interim president and will resume her position in the Art Department where she holds the Mari S. Michener professorship in Art History.
Jamal Eric Watson can be reached at jwatson1@diverseeducation.com. You can follow him on twitter @jamalericwatson