CINCINNATI, Ohio ― It's mid-morning on a recent Friday and Dr. Santa J. Ono pulls his red Audi up to a downtown stop sign bustling with activity. Within seconds, he's greeted by a steady ­ flurry of honks and handwaves.
Ono smiles and waves back, as a herd of students crossing the street crane their necks to catch a glimpse of their tall, lanky, bowtied president. Others whip out their smartphones to snap a photo of him before he speeds off.
"Hey, President Ono!" one student excitedly yells, as if he's just met Jay-Z or Oprah. "I follow you on Twitter."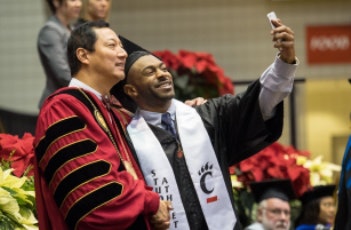 Such is the life for Ono, who presides over the University of Cincinnati (UC), "the hottest college in America," as he calls it. As his popularity continues to soar, too, he may rightly earn the title of being the hottest and hippest college president in America.
After nearly three years on the job, Ono is redefining the role of the college president in bold and unusual ways. He's relying on social media, coupled with good-old-fashioned face-to-face contact, to connect with his nearly 44,000 students.
"I love the students," Ono says, as he moves about campus on foot later in the day, stopping along the way to take selfies with students and staff. "I connect with them virtually. You see them commenting to me on social media and I'll respond. It's unique. You gain energy from it. It's not a chore."
Shortly after his inauguration, the Bearcat cheer squad hoisted him up at Nippert Stadium to a cheering crowd of thousands. In 2013, he publicly shaved his head in front of UC sports fans to raise funds for the Dragon­fly Foundation, which supports young children with cancer.
On this morning, he's talking to high school students in a Cincinnati suburb about the importance of leadership, evoking the names of Dr. Martin Luther King Jr., Ralph Abernathy and Andrew Young — civil rights stalwarts who transformed the nation with acts of civil disobedience and nonviolence.
"Leadership and ethics should really stand at the core of everything you do," he tells the students.
Already moving up precipitously in national collegiate rankings under his leadership, Ono — who is the first Asian American president at UC — is looking at UC to compete with private institutions such as Duke, Emory, Georgetown and Stanford for the nation's best and brightest students.
To accomplish this goal, he's raising funds and pumping resources into cluster faculty hires, increasing the scholarship pool and personally courting students still in high school.
While many of his colleagues across the nation enjoy the perks that often come with running a university that is larger than some small towns, Ono lives quite modestly. He ­flies coach, drives his own car, and decided shortly after he was appointed president in 2012 to sell the president's home and use the money instead for a $3 million endowment fund for student scholarships.
Soon after he inherited the UC presidency following a two-year stint as senior vice president for academic affairs and provost, Ono successfully petitioned the trustees not to raise the undergraduate tuition. In exchange for the request, he pledged that he would not accept a salary increase or bonus payment for the next two years.
"College affordability is a top priority for families and students," Ono says when asked about the decision to forgo a raise. "I want us to think in new ways to do whatever we can to help students achieve their dreams of a college education."
That kind of sacrifice has won him an abundance of loyalty among some students, many of whom are minority and the first in their family to attend college.
"He's really putting us on an upward trajectory, where in the five years I've been at the university, I've seen tangible progress every year," says Rahul Prasad, a first-year UC medical student, who also received bachelor's degrees and an MBA from UC. "I love his vision. He is passionate about the school and is genuinely interested in the students."
On this particular day, Ono, by mere happenstance, stumbles across a team of medical students who tell him that they are dissecting a cadaver in their anatomy class with the hopes of understanding more about diabetes in humans.
"Can you show us?" he asks, eager to show the kind of hands-on training that his students are gaining in lab. Excited, these medical students oblige his request, but not before posing with their president for a photo that Ono will tweet out to his more than 48,000 followers.
Wide-ranging background
As Ono tells it, his kinetic personality is something that he's developed over the years. Growing up, he was a self-described nerd who wasn't particularly outgoing. But today, Ono can easily hold his own on pop culture topics, music and sports.
Born in Vancouver in 1962, Santa Ono — who was named a­fter Santaro, a Japanese folk story character — came of age in Baltimore, where his father Takashi, a noted mathematician, had secured a teaching position at Johns Hopkins University. Takashi's successful career in academia had previously taken him to the University of British Columbia, the University of Pennsylvania and the Institute for Advanced Study in Princeton, New Jersey.
His parents, who grew up poor in Japan, left­ shortly a­fter World War II. At the request of his father, who was also a trained pianist, Ono began studying music at the Peabody Conservatory in Baltimore and would eventually learn to play the cello. But his deep passion was in biology, and he began to hone his interest in high school and eventually followed his father into the academy.
At 52 years old, one gets the sense that this biomedical researcher, who has held administrative and teaching appointments at Harvard, Johns Hopkins and Emory universities, truly loves being a college president, though Ono says that he never intended to become an administrator.
He is currently shepherding the university through an academic master plan, which he authored while provost. That initiative invested $100 million into academics and helped to hire about 250 new faculty over the past three years.
The plan also invested in the University Honors Program and provided grants for study-abroad opportunities. "We also invested quite a bit in advising, which is helping to drive the retention and graduation rates," says Ono.
As the university plans to embrace its bicentennial in 2019, a new initiative will build upon the academic master plan. The Creating our Third Century Plan will allocate an additional $200 million to focus on areas such as big data and cancer research.
"We are going a­fter the best," Ono says, "to move us from where we are as a top-25 public research university to really [be] among the elite universities in the nation and, in order to do that, you really have to focus on the faculty."
To support these efforts, the university has hired full-time diversity officers across the university and is also working to increase its minority enrollment.
"Dr. Ono has always been supportive of diversity," says Dr. Terry Kershaw, a tenured professor and chair of the Department of Africana Studies at UC.
His department houses the National Council of Black Studies — an organization of Black studies professionals throughout the world.
"He's always been accessible and supportive of different ways the department can increase the impact on campus," says Kershaw, who has plans of creating an M.A. and a Ph.D. program in Africana studies and says he has appealed to Ono for support. "And he can make a stronger statement by supporting the development of a graduate program in Africana studies."
Like many college presidents, balancing the budget has been one of the greatest challenges for this married father of two. Ono says thanks to the support of Ohio Gov. John Kasich and the state Legislature, the university has avoided deep cuts that have occurred at state-funded institutions across the country.
The university also has been proactive in working to prevent sexual assaults and has tried to foster increased dialogue about racial incidents.
"What we try to do here is to be a place where people feel safe and free to talk about those issues," he says. "The university is much more diverse and we've set that tone at the top."
As one of a handful of Asian American presidents, Ono says that he's concerned about the dearth of Asians in leadership positions within higher education.
But for now, he's focused on pushing the university forward, a charge that comes with great responsibility.
"We're not entitled to have these jobs," Ono says. "We're stewards of these great institutions that are here for a purpose and that's to empower the next generation and to make society better. That's our job."
Jamal Eric Watson can be reached at jwatson1@diverseeducation.com.