I initially want to express my condolences to the family of State Sen. Clementa Pinckney and to the Emanuel AME Church family for the tragedy that was visited upon them, their house of worship and the community of progressive thinkers who knew, worked and worshiped with the Rev. Pinckney.
I do so in the face of the mounting evidence which reports increasing incidents of violent attacks and assaults on Black lives and Black institutions. After more than a half a century of engagement in this struggle for social justice and political equality, I am convinced that condolences, no matter how sincerely recited, constitute an inadequate remedy to confront the seemingly permanent barriers to the attainment of our best national ideals. If the lessons learned from "yesterday's sorrow" do not frame new patterns of action which abort or prevent "tomorrow's" insult or injury, then what does 'I am sorry' really mean?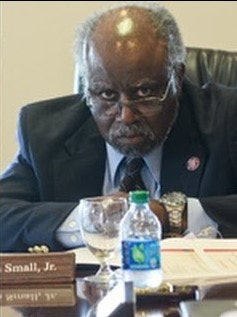 The massacre which took place at Emanuel AME on June 15, 2015, presents an extremely serious challenge to all elected and selected leaders and policymakers in the state of South Carolina. However, I argue that even the weight of that challenge cannot be evenly distributed among that cadre of leaders.
My argument continues to assert that African-American leaders in this state must bear a greater percentage of the burden and responsibility to address the issue and to un-apologetically define responsible solutions. I say this because it is Black people who have endured a disproportionate share of the suffering and burden bearing in this state.
Moreover, in spite of our often-recited, near-delusional reports of the substantial progress that we are making, the fact remains that Black people are still disproportionately overrepresented among the poor, the imprisoned, the marginalized, the undereducated and the underserved in terms of health care and other state-supported services.
How do we address that? How do we address that so that frightened people "who want their country back" will not be driven to massacre those who work for equal opportunity and social justice? How do we address that so that politicians do not exploit the insecurities of small-minded and frightened people who would prefer to take rather than develop life? Or perhaps the better question is: How do we address that so that small-minded and insecure politicians do not get elected in the first place?
The aftermath of "The Massacre at Emanuel" cannot be permitted to degenerate into a conversation about how we must love one another. How we must work together or restrict the right of people to bear arms. Let's all be clear, the absence of love on the part of Black people did not create this mess. The absence of work and service to neighbor and state did not create this mess. Let us remember that Black people were regularly hung and mutilated in the nation and state long before guns became a factor. No ethnic population has been more loyal to America or to South Carolina than African-Americans have been.
This mess has been created by the consistent inability of policymakers and the occupants of "high places" who cannot bring themselves to respect and trust the full development Black lives and Black institutions. Without some reeducation on the issue, what this attitude ensures is that Black social, political and educational progress will continue to inexorably predict social and political conflict as it relates to power and supremacy. Historically, it would have been easy to simply say White supremacy. A brief reading of the book Disintegration by Orangeburg's own Eugene Robinson explains the reasons for adjusting one's thinking on that point.
I offer a final note, in the spirit of this piece, for all Black educational, religious, social and political leaders. Please fully appreciate the role that South Carolina State University has historically played in creating a platform for the maintenance and advancement of Black interests in this state and nation. Given the current national and local landscape, a competitive South Carolina State University is an essential factor in the formula for African-American progress and for the development of a progressive South Carolina.
I implore you to be vigilant with respect to events and developments at the university. With the removal of the elected governing board, you are now the most important "accountability link" between the African-American Community and the future development of South Carolina State University. Please honor and safeguard that responsibility for the generations not yet borne.
Dr. William Small Jr. is a retired educator and past board member and board chairman at South Carolina State University.