The University of North Carolina System president has picked a familiar face as the new chancellor of North Carolina Central University.
Margaret Spellings tapped Dr. Johnson Akinleye — who had been serving as interim chancellor of NCCU — to lead the public historically Black institution located in Durham, N.C.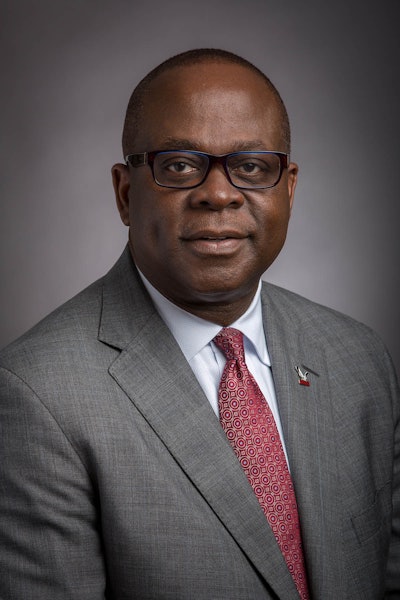 "Dr. Akinleye is a strategic thinker and no-nonsense leader," said Spellings. "His distinguished career includes extensive experience in senior administrative leadership roles at public, private and church-affiliated institutions. He sees building a relationship with the campus and community leaders as a priority and he understands the need to maximize the full value of being in the Research Triangle."
Akinleye beat out several finalists for the job, including Dr. Brian L. Johnson, the current president of Tuskegee University who was reportedly in the running for the top post. Tuskegee did not renew Johnson's annual contract and he is set to leave campus at the end of the month.
"I accept the awesome responsibility as the 12th Chancellor for North Carolina Central University with humility," said Akinleye, who previously served as provost and vice chancellor for academic affairs at NCCU. Prior to joining the NCCU administration, he was the associate vice chancellor for academic programs at UNC Wilmington. "I look forward to leading NCCU in a manner that honors our mission and to working closely with UNC General Administration to fulfill the university's system-wide mission and goals that accrue to the benefit of the citizens of the great state of North Carolina."
Akinleye took over as interim chancellor last summer and succeeds Dr. Debra Saunders-White who died of cancer in 2016.
John King, the former U.S. Secretary of Education who is now president and CEO of The Education Trust, praised Akinleye as "an inquisitive leader who consistently seeks evidence-based approaches to approve students' pathways to graduation."
George Hamilton, chairman of NCCU's board of trustees, praised Spellings' selection.
"I am excited about the selection of Dr. Johnson O. Akinleye as the 12th chancellor of our great institution," says Hamilton. "Dr. Akinleye has a keen understanding of the landscape of higher education in North Carolina and nationally. Having served as both provost and interim chancellor at NCCU, Dr. Akinleye has demonstrated the skills and competencies necessary to ensure the institution's future success. He knows our strengths and growth potential, and, as an added plus, he will hit the ground running on day one."
Jamal Eric Watson can be reached at jwatson1@diverseeducation.com. You can follow him on Twitter @jamalericwatson