Hampshire College has appointed its eighth president, Dr. Edward Wingenbach. .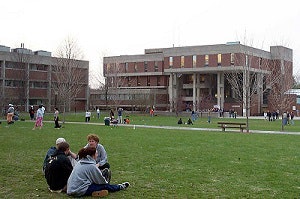 "We welcome Ed to Hampshire — he embodies the many ideals that our students, staff, faculty, and alumni bring to our community," Board Chairman Luis Hernandez said. "We are ready to support him in our important next steps forward and to work together with a sense of renewal and hope."
Wingenbach spent the last six months as acting president of Ripon College in Wisconsin, where he was formerly a professor of politics and government and served as vice president and dean of faculty. He previously worked at the University of Redlands in California, where he was as a professor of political science and took on other administrative roles.
He comes on the heels of hardship for the school. Former President Dr. Miriam Nelson announced that the college would need a partner institution to remain financially viable. She resigned in the spring. Earlier this year, the Hampshire College board voted not to admit a full class this upcoming year because of funding considerations.
The board recently changed its decision, however, and voted to enroll a full class this fall, signaling new hope in Wingenbach's tenure.
"For 50 years, Hampshire College has represented all that is best in higher education," Wingenbach said. "I see my charge as helping to reinvigorate its proud legacy of innovation, because its example is too important, and there are too many students who need and want its high-impact, individualized, student-driven education. I believe in Hampshire and I'm excited to help lead it into its second half-century."