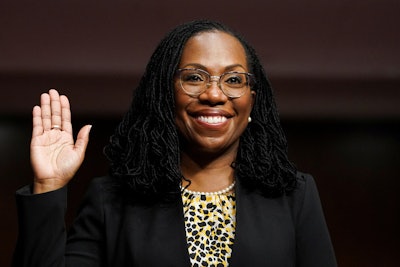 President Joe Biden kept his campaign promise and nominated Judge Ketanji Brown Jackson, a Black woman, to the U.S. Supreme Court to replace retiring Justice Stephen G. Breyer. If confirmed by the Senate, Jackson, 51, would become the first Black woman to be a Supreme Court Justice.
"I'm thrilled to hear the news," said Sahar Aziz, a professor of law and Chancellor's Social Justice Scholar at Rutgers University Law School. "I think it's long overdue for there to be a nomination of an African American woman to the Supreme Court. There have been multiple women who have been qualified for decades now. The current nomination is welcome news to many of us who value and understand the importance of having diversity in the judiciary."
A highly esteemed federal appeals court judge, Jackson went to Harvard College and Harvard Law School. She has worked in private practice and as a public defender, the latter experience proving unusual among Supreme Court Justices, noted some experts.
"Judge Jackson brings more diversity to the bench than just the fact that she will be the first Black female to join it," said Renee Kafee Jefferson, a professor of law and the Joanne and Larry Doherty Chair in Legal Ethics at the University of Houston Law Center. "Among her incredible experiences is her time as a federal public defender. That matters because public defenders represent individuals who are facing criminal charges and can't afford a lawyer. And we know more often than not, those are individuals of color."
If Jackson becomes a Supreme Court Justice, the ideological balance of the Court would not change. The current 6-3 conservative-majority would still be in place. However, there would be other firsts. Jackson would be one of four female Justices, three of whom would have been nominated by Democratic presidents.
Aziz, who is also the author of The Racial Muslim: When Racism Quashes Religious Freedom, noted that a Black woman joining the Supreme Court is of particular consequence.
"While all judges commit to and should perform their roles in an objective and impartial manner, they are still human beings who are affected by their lived experiences," she said. 'And what they have witnessed informs the lens through which they have understood the gap between the law on paper and the law in practice. When you have judges who are generally from the same socioeconomic class, who are the same gender and race, often alumni of the same law school, you limit the ability of the judiciary as an institution to appreciate that difference between law on paper and in practice."
Danielle Holley-Walker, dean of Howard University School of Law, noted that there have been 115 Justices of the Supreme Court in history since its creation. But only seven of those Justices have not been white men.
"The Supreme Court is not the only place where we really have not seen women of color break through that final barrier to the top echelons of their fields," she said. "So, I'm hoping that having Judge Jackson break through to the Supreme Court is an example for higher education that we have a lot of progress to make, but we can make it. There are so many qualified and excellent women of color out there. We just need the opportunity."
Holley-Walker pointed out that only 5% of university presidents are women of color, according to a 2016 survey from the American Council on Education (ACE), one of the nation's leading higher education advocacy groups.
"The need for representation is still incredibly important in this day-and-age, especially in higher education," she said. "I'm hoping that this Supreme Court nomination becomes an opportunity to talk about the need for more women of color in leadership in higher education as well as many other sectors."
Dr. Lolita Buckner Inniss, dean and provost's professor of law at the University of Colorado Law School, echoed a similar sentiment for higher education on Jackson's nomination.
"Very often, people of color, especially women of color, even when we attain accomplishments like Judge Jackson, don't get the same opportunities as our white peers do," said Inniss. "This will help students from all underrepresented backgrounds see that it is possible to work hard, to achieve, and to reach the highest pinnacles of success. It is just tremendous. And for me, as the first Black woman dean at my law school, it is huge."
Aziz added that higher education has recently been experiencing the start of an "unprecedented rise of African American women deans in law schools, from which we are already seeing an impact on legal education." With this leadership shift at some institutions, students have been exposed to more classes on race and the law or equity and the law, she pointed out.
"Because historically, law has been caught in a highly formalistic and paralyzed way that fails to teach law students how law contributes directly or indirectly to social inequalities," said Aziz. "The other important consequence of this ongoing racial, ethnic, and gender diversification of law school deanship is the presence of role models for students of color who, before then, had very few. This empowers them to see themselves as leaders in legal education and the legal profession."
As for what comes next for Jackson, many scholars like Inniss said that they are confident the 50-50 Senate will confirm her nomination to the Supreme Court. Last year, three Republicans in the Senate voted with Democrats to confirm Jackson to the U.S. Court of Appeals for the D.C. Circuit. Biden will likely be counting on those Republican votes to move Jackson's nomination forward.
"I know there may be difficulties, yet I absolutely expect the nomination will go through," said Inniss. "Because I think fair-minded people will have to see that she represents the best of us. I hope that people, certainly those confirming her as well as our citizens, will recognize this is not about partisanship. This is about excellence and justice."
Rebecca Kelliher can be reached at rkelliher@diverseeducation.com.