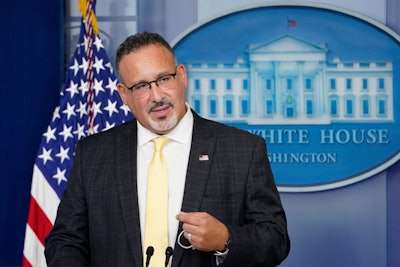 In a wide-ranging interview with Diverse, Dr. Miguel A. Cardona discussed what he sees as the biggest challenges and accomplishments of the U.S. Department of Education (ED) more than one year since he took the helm as the U.S. Secretary of Education
"First and foremost, I remember not only as an educator but as a parent where we were before I became Secretary and Biden took office," said Cardona. "There was a lot of fear. More than half of our schools were closed. A year later, our schools are open again. Now, more than 90% of students are connected to schools both at the K-12 and higher education levels."
Cardona stressed that the American Rescue Plan (ARP), including the Higher Education Emergency Relief Fund III (HEERF) made that possible when it was signed into law last year. HEERF gave more than $39.6 billion in support to higher education institutions to serve students during the pandemic.
"Can you imagine the headlines today if that money didn't go through?" asked Cardona. "We'd be talking about schools closing, about thousands of students not pursuing higher education."
Cardona noted that ARP provided more than $10 billion to community colleges, more than $2.6 billion to Historically Black colleges and universities (HBCUs), and about $190 million to tribal colleges. In addition, more than $13 billion went to minority-serving institutions (MSIs), including Hispanic-Serving Institutions (HSIs). In July 2021, ED announced another $3.2 billion in emergency grants under HEERF.
"When I visited a tribal college, I talked to a student who slept in his car for part of the pandemic," said Cardona, referring to a September 2021 trip to Saginaw Chippewa Tribal College in Michigan. "But he is still a student. He didn't drop out."
In January 2022, after seeing such food and housing security among students, an additional $198 million in ARP funds went to primarily support community colleges and other high-need institutions to address students' basic needs.
"Secretary Cardona has highlighted issues that we have long wanted to see highlighted, such as student mental health support in K-12 and higher ed," said Mark Huelsman, director of policy and advocacy at The Hope Center for College, Community, and Justice, a research and advocacy center focused on higher education equity. "At the Hope Center, we've been encouraged by the Department's leadership in recognizing basic needs insecurity. Cardona has acknowledged these needs several times, which I think is a good sign. Certainly, more needs to be done, but we want to celebrate that."
Huelsman noted that the first year of ED under the Biden administration has largely focused on building up a new staff and shepherding those billions of dollars in emergency relief funds.
He added that another big step ED took this year has been approving about $2 billion in federal student loan relief under borrower defense for more than 107,000 borrowers. The Public Service Loan Forgiveness program, which has long been reported as highly dysfunctional, has been revamped as well.
But like many are voicing across the country, Huelsman said more sweeping action on student debt is needed.
"The administration has not made particularly good headway yet on broad-based student debt cancellation, despite the President supporting some version of debt cancellation," said Huelsman. "There has so far been a pretty individualized approach to debt relief like through borrower defense."
Dr. Ann Marcus, professor of higher education and director of The Steinhardt Institute of Higher Education Policy at New York University (NYU), raised another point of contention among many in the higher education community. The Biden administration has been voicing support for doubling the Pell Grant for low-income students, but that has not yet happened.
"I have found that most disappointing," said Marcus. "I thought if I were Biden, I would double the Pell Grant. It's income-based. It should be a pretty simple thing to do. You're not creating a new program. You already have the forms."
Earlier this month, Congress passed the fiscal year 2022 budget, which did include a $400 increase in the Pell Grant maximum. That boosts the maximum aid per student for the 2022-23 academic year from $6,495 to $6,895, a little over 6%. With rising inflation, Marcus is skeptical of what meaningful impact that can make for students.
"That's just diminutive," said Marcus. "It's better than nothing. But that kind of amount is not enough to make a difference for most people. It's very disappointing."
Marcus stressed the pandemic has also only quickened enrollment drops at community colleges in particular. Many community college students are low-income and Pell Grant-eligible.
Yet Cardona emphasized that the latest $400 increase is only the start, adding that Biden had proposed about a $2,000 boost before Congress settled on that lower amount.
"We see that as a down payment towards doubling Pell," said Cardona, who also touched on Biden's proposed tuition-free community college plan, noting that "we will keep fighting for community college for all."
Regarding K-12 education, Dr. Pedro Noguera, the Emery Stoops and Joyce King Stoops Dean of the University of Southern California's Rossier School of Education, applauded ED's strides under Cardona to prioritize the needs of some of the country's most marginalized students.
"There are a lot of things I like about the focus and direction of the Department," said Noguera. "We needed a Department that has really prioritized equity in terms of the ways in which we think about serving kids that historically have not been served well. I think under the Bush, Obama, and Trump administrations, that was kind of lost. The rhetoric was there, but there was not enough guidance provided to schools serving vulnerable kids. That's over half of America's kids."
But with schools increasingly becoming partisan battlegrounds, such as states trying to ban classrooms from teaching about slavery or supporting trans students, Noguera said that ED needs to step up much more.
"There needs to be nonpartisan guidance to schools and school districts on how to address these issues," said Noguera. "I would like to see the Department be more proactive in providing that guidance and support to districts. For example, in clear and simple language, explain what a commitment to equity looks like. It's about all kids, not some kids. Because I think diversity and equity are terms that have gotten kind of distorted."
However, he noted as well that Cardona, given his background in schools and lived experience as the child of Puerto Rican parents, is "well-positioned to take on this bully pulpit role."
"He understands what it's like to be on the front lines as a superintendent, and he understands the needs of the country's most vulnerable kids," said Noguera. "He is the best spokesperson to do this work."
Cardona stressed this student-minded approach as a guiding principle in his work.
"What I can tell you is that we're going to keep our students at the center of the conversation," he said.
Rebecca Kelliher can be reached at rkelliher@diverseeducation.com.