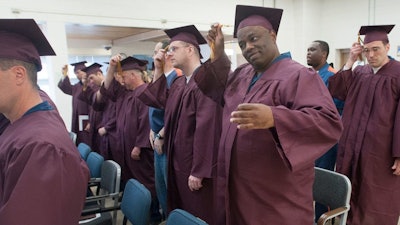 On Thursday, the Ronald Reagan Institute hosted two panels discussing barriers that incarcerated people face to get an education in prison and build careers after. Policy experts, practitioners, correctional leaders, and formerly incarcerated advocates weighed in on what the approaching Pell Grant expansion to incarcerated people will mean next.
"There is a mistaken belief in what someone who went to prison is capable of and what they should be doing," said panelist Dr. Stanley Andrisse, an endocrinologist and assistant professor at Howard University's College of Medicine. "We want to break that narrative, to help folks beyond that."
In his early twenties, Andrisse was sentenced to ten years in prison for three felonies. He noted that the prosecutor in his case argued that he should receive 20 years to life "because she said I had no hope." Andrisse proved that prosecutor—and the narrative behind her—wrong.
He went to graduate school after prison to become a medical doctor. Today, he directs a nonprofit called From Prison Cells to PhD that supports current and formerly incarcerated people pursuing education. On the panel, Andrisse noted that people sometimes see him as an exception, though he stressed that is not the case.
"There are brilliant individuals behind prison walls, but they haven't been given access and opportunity," he said. "From our work helping college in prison programs, I know that most faculty will tell you the greatest students they've ever taught were inside a prison."
Last week, the Biden administration added more colleges to join the third round of the Second Chance Pell Experiment. The Obama administration launched this initiative to expand access to Pell Grants for people in prisons participating in select programs via the experiment. With Biden's latest additions, 200 schools in total can take part in Second Chance Pell.
Pell Grants provide federal financial aid to college students from low-income households. But since 1994, incarcerated people have been banned from this aid. Yet after almost three decades of bipartisan advocacy, Congress in December 2020 voted to end the ban. In July 2023, Pell Grant access will be restored to people in prisons.
"As you have probably seen in your own experience or with loved ones, education really has the power to transform people's lives," said Dr. Belinda Wheeler, senior program associate at the Vera Institute of Justice, a national nonprofit focused on social justice issues. "And it's not just them, it's their families and communities. Those ripple effects are so important."
She noted a 2014 RAND Corporation study that found every dollar invested in prison-based education yields four to five dollars of taxpayer savings in reduced incarceration costs. Wheeler works for the Vera Institute's Unlocking Potential initiative, which provides technical assistance to over 200 colleges and correctional institutions that are part of Second Chance Pell.
Although both sides of the political aisle celebrated the lifting of the Pell Grant ban, many advocates are wary that people in prisons get equitable access to quality programs with this restoration. The panelists addressed such concerns.
"That is the $10 million dollar question," said Wheeler. "There are a lot of education deserts in this country, particularly in carceral spaces. And we want to make sure that we are working with the right stakeholders to eventually ensure that anyone who is incarcerated has access to that educational opportunity."
She and fellow panelists explained that running a college program behind bars poses unique challenges, including the lack of classroom space in facilities not built to be schools. In addition, many people who are incarcerated did not finish high school. More educational support is often needed to prepare them for college courses.
Andrisse also pointed to racial inequities among many college programs in prisons. He noted that a classroom may be predominantly white, though the facility is predominantly Black and brown. To tackle such challenges, panelists agreed that stakeholders will need to work together as Pell comes back in a little over a year.
On the second panel, Abigail Jasinsky, deputy director of policy for the governor of Tennessee, Bill Lee, spoke about one of the greatest challenges in moving the needle on these issues in her state.
"I'll be honest, the politics of this problem are almost impossible at times," said Jasinsky. "We as academics can bring so much evidence and data about what works to improve public safety, to reduce disciplinary infractions at a facility, or to increase correctional officers' well-being. We know what works. Braiding that with notions of justice for those who believe the punitive part of incarceration is the most important part will always be the biggest problem."
Fellow panelist Robert Green, secretary of public safety and correctional services for Maryland, agreed and spoke about the importance of supporting people not only inside prison but once they leave. Doing so, he stressed, benefits public safety and communities alongside the individuals.
"We've created this environment where behavioral health and substance abuse treatment and education is available in our facilities, but we want to be sure people are connected to that on the outside," said Green. "I don't want to have something you can only find inside my institution. I want there to be continuity."
Jasinsky added that recidivism, or whether a person released from prison is sent back, is not a helpful measure to her of success for a prison education program. Many studies have shown that such programs can dramatically lower recidivism rates. But Jasinsky pointed out that recidivism is "a measure of failure" that leaves out a bigger part of the story.
"We want to understand more about where people go when they don't come back to us," she said. "We don't know enough about how well people who don't recidivate are doing. Are they employed? Are they homeless? Are they healthy? What happens to them later in life is what we need to understand to build a healthy ecosystem leading fewer people to the front doors of prisons from the start."
Rebecca Kelliher can be reached at [email protected].