The cost of higher education, and confusion around the financial aid system, is proving to be both a burden to students and to institutions, according to Dr. Phillip Levine in his new book, A Problem of Fit: How the Complexity of College Pricing Hurts Students—and Universities.
"The numbers people have in their heads is a lot more than what [college] actually will cost," said Levine on Monday at a presentation by the Center on Children and Families at the Brookings Institute, which studies policies that impact the well-being of marginalized American families.
Levine, a professor of economics at Wellesley College, shared data collected in a 2015 poll of ACT test takers that showed most students assumed the cost of college was the "sticker price," and not the net amount calculated based on expected family contribution (EFC) by financial aid.
"If you ask high school seniors what they think college costs, the sticker price is that magic number," said Levine. "That complexity is really hurting kids. They think college is expensive, and that limits access."
In order to understand the actual cost of attending college, Levine studied the differences between sticker cost and net price for students with lower or higher EFC at four types of institutions: private institutions with large endowments, other private institutions, public flagship or R1 institutions, and other four-year public institutions. He found that financial aid at the majority of these institutions made college less affordable for students with lower income.
For students with zero EFC at "meets full need" institutions, financial aid can cover the entirety of tuition, although students will still take on other expenses like housing, food, and textbooks. Students who come from higher income backgrounds with greater EFC pay the higher costs of tuition, and the institution uses those dollars to offer more need-based scholarships.
For almost all institutions except those with large endowments, financial aid doesn't only serve need-based students. Instead, it brings down the cost for all students. Students with a high EFC are paying only a little more than a low EFC student. This creates very large gaps in affordability.
"We're just making it affordable for higher income students, which reduces revenue for those institutions to subsidize lower income students," said Levine. "At the end, it's lower prices for higher income students, where lower income students can't afford to pay their tuition."
Levine offered a few solutions and policy shifts to address this problem. He suggested that states increase their funding so institutions can better support college access for those with lower EFC, and that the federal government should double the Pell Grant to make up for the average $5,000 affordability gap for lower-income students.
Levine also recommended families and students start being introduced to the complexities of the financial aid system much sooner in K-12 programming.
"The solution I like to promote is something I call a financial aid information funnel," said Levine. "Start them at an early stage and provide for them the information they need. Get people off the sticker price, keep them moving through the system."
Counselors, said Levine, should provide students with more accurate assessments of cost based on asset data, narrowing estimations as the student gets closer to entering college to something closer to the actual anticipated cost.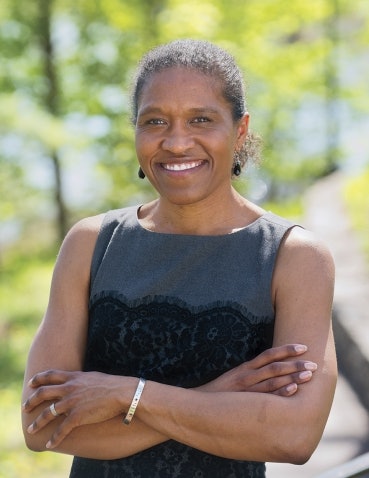 Joy St. John, dean of admission and financial aid at Wellesley College, soon to be at Harvard University, said that financial aid professionals are "driven by the desire to apply needs analysis in as equitable a way as possible, but depending on the institution, you're driven to use aid as a way to help colleges meet enrollment goals."
"Even directors at institutions that don't gap students, have large endowments, meet 100% demonstrated need, even they experience pressure regarding their portion of operating budget," said St. John. "It can be difficult to predict how much of the budget will have to be used for financial aid. At the same time, community members see the financial aid office as the only place that allows institutions to create more equitable experience for students with different financial backgrounds."
That combination of expectations, said St. John, can make financial aid offices more reluctant to offer financial aid estimates without a full application. But as costs continue to rise outside of the world of higher education, new generations of parents and student will expect more cost transparency, said St. John.
Moving financial aid information down into K-12 sooner could be difficult for lower resourced schools with a higher ratio of student to counselors, said Dr. Lindsay Page, Annenberg associate professor of education policy at Brown University. Too many students for an advisor can make the nuanced conversations necessary for understanding how to afford college less tenable.
"When we think equitably, we need to keep an eye on those opportunities—one thing I want to underscore is the idea of better investment in school counselors and better training on all these topics," said Page. "School counselors may not enter into those roles with expertise on this complex landscape."
Taking away the stress of affordability, the panelists said, will help students find their perfect fit for college and be able to flourish, one step forward on the engine of economic mobility.
Liann Herder can be reached at lherder@diverseeducation.com.