Last week, the U.S. Supreme Court's draft majority opinion stunned the country as people brace for a likely post-Roe future. According to the leaked draft, the conservative-majority Court in a month will likely overturn Roe v. Wade, the case that established abortion as a constitutional right 50 years ago. News sent shockwaves across the higher education landscape.
"I am opposed to the overturning of Roe v. Wade. It ignores the opinions of the majority of Americans across the political spectrum," said Dr. Beverly Guy-Sheftall, the Anna Julia Cooper Professor of Women's Studies and English at Spelman College in Atlanta. "It will also have devastating consequences for women and girls who are unable to secure abortions safely because they are no longer available legally or close to home."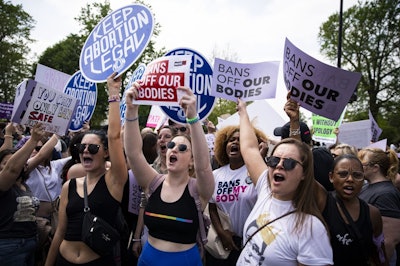 Nearly one in four women in the United States will have an abortion by age 45, according to the Guttmacher Institute, a reproductive rights and research organization. In addition, recent data shows that women aged 20-24 account for the largest proportion of abortions with women aged 25-29 as the second largest.
Scholars point out that poor women of color who live in conservative-controlled states are the most likely to be impacted by the anticipated end of Roe. Economists filed an amicus brief to the Supreme Court in response to the Mississippi case months ago. It outlined scholarship that repeatedly shows abortion restrictions hurt the future earnings and educational attainment of women, especially Black and Latinx women.
"When we think about access to abortion, it's a fundamental right that is critical to a woman's ability to control her body, her life, and her future," said Mike Greene, a policy advisor at the American Association of University Women. "Expanding reproductive services increases a woman's prospects of attaining economic security as well, so these attacks on abortion are a problem for our country. It's very alarming."
Dr. Michele Goodwin, Chancellor's professor of law at the University of California at Irvine, also noted the country's rising maternal mortality rates and morbidity rates, which disproportionately impact Black women. Goodwin is the author of Policing the Womb: Invisible Women and the Criminalization of Motherhood.
"There are visible and many invisible ways in which women and girls who become pregnant are still shackled to discrimination and stigmatization, and this is happening in the workplace, in places of education, and across society," she said.
Laurie Bertram Roberts is the executive director of Yellowhammer Fund, an abortion fund and reproductive justice organization in Alabama, and uses they / them pronouns. They noted that many historically Black colleges and universities (HBCUs) are in states that will likely soon ban abortion if Roe is overturned in June. Yet these campuses, they said, are no stranger to "civil disobedience."
"There is no need for staff and faculty and health care professionals who work on campuses to aid and abet the policing of people who self-manage their abortions," said Roberts. "You don't have to police your neighbor. Just opt out."
Self-managed abortions refer to taking abortion pills outside of the medical establishment, which some states have already outlawed. Yet advocates like Roberts note that these pills have been repeatedly shown in studies to be safer to take than Tylenol.
"Self-managed abortion is going to be really critical right now: both destigmatizing it and working at the state and federal levels to decriminalize it," said Cindy Cruz, the Western States Program Director at URGE: Unite for Reproductive and Gender Equity, a reproductive rights advocacy organization that works with college students. "In California right now, we also want to make sure that medication abortion on campuses is implemented in a way that is accessible and inclusive."
Cruz referred to URGE student activists pushing through a 2019 law in California that made it the first state requiring public universities to offer medication abortion, or abortion pills, through campus health centers. The law affects 23 campuses of the California State University and nine campuses of the University of California. Institutions have until January 2023 to comply with the bill.
To Cruz, this compliance will be especially important now. California abortion providers have been preparing for an influx of out-of-state patients traveling from parts of the country that are poised to ban the procedure if Roe falls. With California's public colleges providing medication abortion care on campus, those clinics may be less overwhelmed to meet a growing need.
"If this Supreme Court decision goes through, it means our generation will live in a world where we will have less rights than our parents and our grandparents did before us," said Grace Friedman, a 17-year-old high school senior at Voters of Tomorrow, a youth advocacy group. "It's so worrying that the country is going in a backwards direction instead of forward."
Friedman and Cruz stressed the importance of young people organizing. Last week, Voters of Tomorrow partnered with other youth groups to lead protests against the Supreme Court's drafted majority opinion. Many Gen Z students are pushing back.
"Vote, vote, vote," added Friedman.
Rebecca Kelliher can be reached at rkelliher@diverseeducation.com.