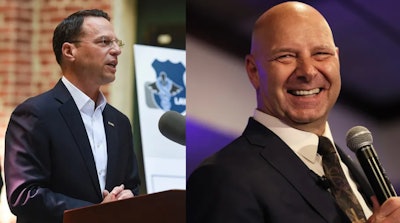 On Tuesday, Democrats and Republicans in Pennsylvania casted their votes in the state's primary elections ahead of this fall's midterms. The results so far in this battleground state, could be a bellwether for the national political arena, including where higher education issues may stand.
"For education, the more consequential primary election [on Tuesday] was about the governorship," said Dr. Marc Meredith, an associate professor of political science at the University of Pennsylvania.
Doug Mastriano, former president Donald J. Trump's pick for the state's governor, won the GOP primary. Prior to Trump's endorsement, Mastriano was already ahead in the race. He will challenge Josh Shapiro, the Democratic nominee for governor in November.
"Going forward on the governor's side, I would expect higher education to become a contentious issue if Mastriano wins, particularly if the GOP also gets control of the state legislature," said Dr. J. Wesley Leckrone, a professor of political science at Widener University, a private university with campuses in Pennsylvania.
Meredith agreed. Since 2015, Democrat Tom Wolf has been Pennsylvania's governor. A sea change could be underway, though he and Leckrone noted it remains too early to tell who will win.
"For the last seven years or so in Pennsylvania, we've had a Republican state legislature and a Democratic governor, so pretty much any legislation coming out of the state has to be bipartisan at some level," said Meredith. "But if we were to reach a spot in Pennsylvania where we had one party with unified control of both the governorship and state legislature, then I think there would be a lot of potential policy changes for education and other key issues."
Mastriano has repeated and promoted Trump's lies about widespread voter fraud—which was nonexistent—in the 2020 presidential election. In addition, Mastriano was outside the U.S. Capitol during the January 6, 2021 insurrection. The House committee investigating the Capitol riot has already subpoenaed him.
Such an extremist nominee may not play well in Pennsylvania, which is a swing state.
"At the governor's level, I think it will remain in Democratic hands," said Dr. Jason Johnson, an associate professor of politics and journalism at Morgan State University. "But the fact that you have a Republican candidate for governor who attended the terrorist attacks on the Capitol, that is a problem. You know that means they are committed to plots and schemes to overturn the will of the people."
Higher education could also soon be on the campaign agenda.
"He comes out of a wing of the party that sees higher education as a bulwark of the liberals," said Leckrone of Mastriano. "While higher education has not been a topic of conversation reaching top levels in the campaigns so far, I could foresee attacks on universities, including public funding for higher education, if he wins as governor."
Such battles over higher education have been playing out in Florida and a few other conservative-controlled states. Florida's Republican Governor Ron DeSantis recently signed a bill to limit tenure at public universities, arguing that faculty with tenure can create an "intellectual orthodoxy."
"I wouldn't say that education has been clearly part of the campaign to date, but I think it's likely the case that the winner of the general election between those two candidates will have important consequences," said Meredith.
Two elections have not yet been called in Pennsylvania as of this writing: the Republican primary race for the U.S. Senate as well as the Democratic primary for the U.S. House of Representatives in the state's 12th district. In the Democratic primary, Summer Lee and Steve Irwin are neck-and-neck.
The GOP Senate election is still too close to call between TV celebrity Dr. Mehmet Oz, whom Trump has endorsed, and hedge fund CEO Dave McCormick. Kathy Barnett is a distant third and considered more conservative than Oz with Trumpism views without a Trump endorsement.
"I would say right now that Pennsylvania looks like a Democratic pick-up in the Senate," said Johnson. "Dr. Oz is a gift. He is a gift to the Democratic party. He is a celebrity. He is a clown. He doesn't seem like a serious politician."
Primary races on Tuesday were also held in North Carolina, Kentucky, Oregon, and Idaho. Both parties are selecting candidates for the fall general election. Control of Congress, the governor's seat, and other significant election posts will be on the table, so stakes are high.
"I think Pennsylvania is a state where, no matter who the nominees are for both parties, either candidate can potentially win given how evenly split the state is," said Meredith. "I will mostly be watching next how the candidates seem to be persuading their base to be excited about the election and what the cross-over appeal will be to independents."
Rebecca Kelliher can be reached at rkelliher@diverseeducation.com.