Dr. Valerie Kinloch, will become president of Johnson C. Smith University (JCSU), effective Aug. 1.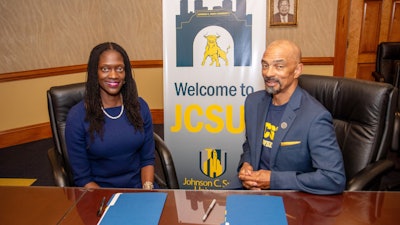 Kinloch is currently the Renée and Richard Goldman Dean of the University of Pittsburgh School of Education. She previously was associate dean and professor at The Ohio State University; assistant professor of English Education at Columbia University; and assistant professor of English at University of Houston-Downtown.
Kinloch is also a 1996 graduate of JCSU and a member of the school's Board of Trustees.
"It's a dream come true to be invited to lead one of the finest Historically Black Colleges and Universities in America – and at the same time come home," said Kinloch. "My years at JCSU were some of the best of my life. This university set me on course to grow beyond anything I could imagine, so it is incredibly gratifying to return and give back to the institution that helped make me who I am."
One of Kinloch's goals is to raise the school's national profile with students, families, and funders.
"We need to make space for innovation and for different types of learning – not just inside of classrooms but also through internships, experiential engagements, and job placements with businesses, organizations and community groups with whom we have deep relationships," Kinloch said. "We have to support critical thinking and provide an education that prepares students for the careers they want and that the community needs. We also have to encourage students to pursue even higher forms of education."
Kinloch holds a bachelor's degree in English and literature from JCSU; a master's in English/African American literature from Wayne State University; and a doctorate in English also from Wayne State.