Sylvia M. Burwell has announced that she will step down as president of American University at the end of the upcoming academic year.
Burwell, the institution's 15th president and its first female leader, has been in the post since 2017. She cited several reasons for the decision to leave the position, including her belief that the university is in good shape and a desire to spend more time with her family.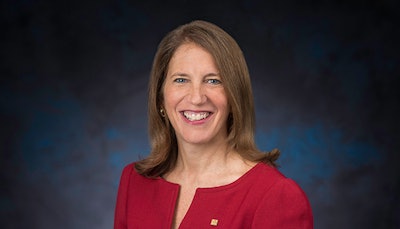 Burwell had an unusual background for a college president, never having been a professor, a dean, or a provost, and never having earned an advanced degree. However, she had worked at high levels of the federal government, as a former director of the White House Office of Management and Budget and the former U.S. secretary of health and human services under President Barack Obama. That experience was critical as she led the university through the COVID-19 pandemic.
Burwell also steered the campus through several racial controversies, including a 2019 incident in which campus police officers forcibly removed a Black student from a university apartment, and the 2023 discovery of a racist message written on a library whiteboard. Burwell has developed an increasingly diverse group of advisors. In 2017, 17% of an administrative group called the president's council were people of color. That number is now over 60%. American also launched an Antiracist Research and Policy Center in Burwell's first year.
Burwell has emphasized that she is not retiring, nor is she moving to another school. Instead, she will take a position as a distinguished lecturer at the university's Sine Institute of Policy and Politics.
Jon Edelman can be reached at JEdelman@DiverseEducation.com.