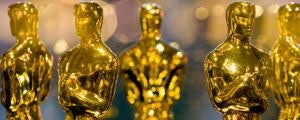 OscarsSoWhite? How about #OscarsSoDull?
Despite threat of boycott and controversy, the show did go on, and on.
And while the issue of Hollywood's lack of diversity among nominees gave the show a bit of an edge, in the end, the 88th Academy Awards proved to be only a little more interesting than the long parade of overdressed celebrities normally is.
Chris Rock's opening monologue was the "must see," for most people.
And for the most part Rock himself did not disappoint.
It was all the other gags that fell flat.
The biggest dud was Stacey Dash, the "Clueless" actress turned Fox commentator who was critical of #OscarsSoWhite. Dash came on stage after being introduced as head of the academy's fictitious minority outreach program.
"I cannot wait to help my people out," Dash said, playing into the joke. "Happy Black History Month."
Laughs? Crickets didn't even bother to respond.
There were other attempts to address the Awards lack of diversity, like a sight gag featuring a bound Suge Knight look-alike from "Straight Outta Compton."
They were all extraneous after the Rock's opening monologue.
Garbed in white jacket, Rock opened with a quip about counting "at least 15 Black people in the opening film montage," then welcoming people to the "White People's Choice Awards."
He asked a pointed question why were these 88th Academy Awards were targeted.
"Which means this whole no Black nominees thing has happened at least 71 other times, OK. You got to figure it happened in the 50s, the 60s," Rock said. "One of those years Sidney (Poitier) didn't put out a movie. I'm sure there were no Black nominees some of those years. Say '62, '63.
"Black people did not protest. Why? Because we had real things to protest at the time."
That got Rock his first sustained eight-second laugh.
"There were too many being raped and lynched to care about who got Best Cinematography," said Rock. "When your grandmother's swinging from a tree, it's really hard to care about Best Documentary Foreign Short. But what happened this year? People went mad."
He singled out Jada Pinkett.
"Jada boycotting the Oscars is like me boycotting … Rhianna's panties … I wasn't invited."
Another long laugh from the attendees.
"I'm not hating," Rock said. "It's not fair that Will (Smith, Pinkett's husband) was this good (in "Concussion") and didn't get nominated. You're right. It's also not fair that Will was paid $20 million for 'Wild, Wild West.'"
But his best joke may have been a reference to a real problem in society: "This year in the 'In Memorial' package, it's just going to be Black people shot by the cops on the way to the movies."
It was the biggest laugh of his monologue.
Rock did not part without solutions to the problem of Oscar's lack of diversity.
"If you want Black nominees every year, you need to have Black categories," Rock said noting the academy separates by gender already in acting. "There's no reason. It's not track and field. You don't have to separate them. Robert De Niro's never said, 'I better slow this acting down so Meryl Streep can catch up.'…If you want black people every year just have Black categories like 'Best Black Friend.' And the winner for the 18th year in a row is Wanda Sykes."
There were a few more jokes, but the point was made. There wouldn't be any black nominees or award winners.
But it wasn't until two hours into the show during a Chris Rock "man in the street" interview segment that the joke became more inclusive.
Said one Black interviewee holding an Oscar: "This should be not just White. It should be Asian, Hispanic. There's so much talent out there of all races."
Until that point, none of the barbs hurled by Rock had made inclusiveness the point.
Where were the Asian Americans? Pixar animator Ronnie Del Carmen, an Asian American of Filipino descent, was among the first group of nominees in Best Original Screenplay for his story contribution in "Inside Out."
But he did not win.
For Hispanic nominees, there was Alejandro Inarritu, the director of "The Revenant," the winner for Best Director.
Unfortunately, because he wasn't making jokes, Inarritu was hurried along by the orchestra as he was making the night's most touching comments about diversity.
In his remarks, he thanked the Native American cast in "The Revenant." And he acknowledged his own luck.
"Unfortunately, many others haven't had the same luck," Inarritu said. Then he quoted a line from his film, that tried to give the night a sense of hope on race. "They don't listen to you, they just see the color of your skin. So what a great opportunity to our generation to really liberate ourselves of all prejudice and this tribal thinking and make sure for once and forever, the color of your skin become as irrelevant as the length of our hair."
It was a much more moving and emotional moment compared to anything Rock had said all night, because it wasn't a joke.
By the time Cheryl Boone Isaacs, the Academy of Motion Picture Arts and Sciences president and an African American, made her appearance, the show was more than two hours long.
Boone Isaacs referenced changes the academy had announced earlier in the year to be more diverse. And then tried to reassure if the night's humor had failed.
"Our audiences our global and rich with diversity and every facet of our industry should be as well," Boone Isaacs said. "Everyone in the Hollywood community has a role to play in bringing about the vital changes the industry needs so we can accurately reflect the world today."
Good.
But at that point, the issue was upstaged as Vice President Joe Biden came on and talked of campus rape, as if one controversial issue for the night wasn't enough.
Biden introduced Lady Gaga, who sang an emotional Oscar-nominated song, "Till It Happens to You," from "The Hunting Ground," staged with victims who were said to have experienced sexual assault.
It captured the crowd's heart, who leapt to their feet.
Lack of diversity? Was that an issue on this night? In a show that was going more than three-hours, the point seemed lost.
By the time, Chris Rock closed the show and said "Black Lives Matter," as the band played "Hollywood Swinging," it seemed like a throw-away line that didn't matter on a night when it should have.
Emil Guillermo is a journalist and commentator on race, culture and politics for the blog at the Asian American Legal Defense and Education Fund. Contact him at www.twitter.com/emilamok; www.amok.com