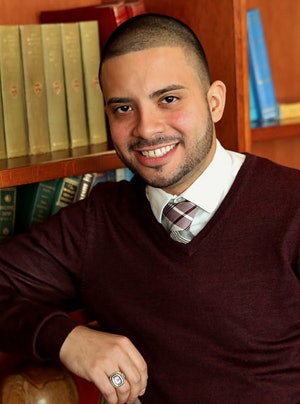 Growing up in the Bronx, I was accustomed to identifying as Puerto Rican. I was surrounded by communities of color and went to school where the student body was predominantly Puerto Rican, Dominican, Mexican, and Black. I don't recall hearing or using the term "Latino" much until I was in college.
During my freshman year, I vividly remember looking through the course catalog – a massive depository that resembled a phone book in which all the classes being offered were listed – to see if there were any courses about Puerto Ricans. For the most part, I saw only classes about the broader category of "Latinos" offered through a Latino/a Studies Program.
Having to adjust to an overwhelmingly White environment where the majority of my peers did not qualify for financial aid, it was really easy to feel isolated—especially in the classroom. Outside of class, I surrounded myself with the friends I made during the "Introduction to Cornell" program I was a part of. These friends were mostly underrepresented students from around the country who were either low-income or were flagged to benefit from this summer bridge program.
However, during my first fall and spring semesters, the classes were larger and Whiter. When you are in a "Social Inequality" class where the White professor just moves on from problematic comments made by White students about the disparities of wealth among non-White communities, or where the professors themselves call on the very few students in the class who may identify as being part of a "minority" group to speak to the issues affecting their communities, it becomes more difficult to feel like you belong. Experiencing these things constantly, I began to appreciate the term "Latino."
There weren't many Puerto Ricans in my college town, Ithaca, N.Y. As I looked for "my people" on Cornell's campus, I learned more about myself through the interactions I had with other Latinos. I became an out-of-house resident of the Latino Living Center, a residence hall created to celebrate and acknowledge Latino culture and Latinidad at Cornell.
I also frequently visited the Latino/a Studies Program office. Although most major, minor, or academic program offices at Cornell were mostly administrative spaces to find information about the academic program and get advising, this one in particular was more of a student support space — with a welcoming lounge area, beautiful Latino artwork, a computer lab and friendly staff and faculty who frequently occupied the student spaces to check in on all of us. The older students who spent most of their time in these spaces encouraged me to get the Latino/a studies minor and become involved with the Latino-centered student organizations.
Listening to these students and becoming a regular at these spaces changed my life and helped me thrive at Cornell. The classes within the program introduced me to a history that I was deprived of in my social studies and history classes growing up, although I was unaware of it at the time.
The ways in which the Latino culture is created by the shared experiences of colonization and oppression, or through the beauty of our language, food, and music, fascinated me. I began to recognize the importance of having the ethnic enclave "Latino" and the power it has in helping all those within the Latino umbrella find a home, even when their "home" in the United States treats them otherwise. I realized how coming together as Latinos allowed for our communities to take matters into our own hands and demand more support from the university.
The motto for the Latino Living Center is "Juntos Somos Fuertes" – together we are strong. This saying drives the familial aspect of our community, as seen when student groups such as La Asociación Latina or the Puerto Rican Students Association work tirelessly with MEChA to ensure that the university responds appropriately to incidents such as an occasion when insensitive and foolish marketing material for a football game mocked Mexican culture. The truth is, when one of us gets hurt, we all do.
In some ways, it was not until I was surrounded by overt examples of racism and systemic oppression that I began to actively seek and cultivate spaces for Latinos. These safe spaces are constantly under attack. Often stigmatized as exclusionary, self-segregating spaces that are divisive to the broader campus community, these spaces are the reason so many Latinos are able to navigate the institutions we are a part of.
While attacks are regularly combated with the fact that these spaces are open to anyone, students, often White, claim that they feel unwelcomed and targeted as the problem with issues of campus climate or racial tension in the U.S. When this happens, I often wonder if they ever recognize that how they are feeling is exactly how we feel in class and on campus when we are not in these spaces.
Look at the paintings, statues, and name plaques around campus. Consider the well-documented history of families and legacies that attended the institution. Reflect on how often or how long it takes for you to encounter someone with a similar background on campus. They all point to the overwhelming majority of students on campus who do not look like me or many of my closest friends.
College was the expected next step for me after high school, but I did not know what that would entail. I came to realize that I was not just taking classes to earn a degree, but I was also beginning to understand the importance of social capital and networking. I quickly learned that not only did I have to be "smart," but I had to be able to speak about myself and my interests passionately and confidently. To do this, I needed to find a network of peers who appreciated me for who I was and could relate to my experience so that when I made a mistake or struggled, I felt safe and at home. That is what these spaces provided me.
Andrew Martinez is a Ph.D. student at the University of Pennsylvania's Graduate School of Education and research associate at the Penn Center for Minority Serving Institutions. His column appears in Diverse every other week.