It is estimated that immigration to the North American continent began no later than 10,000 B.C./B.C.E. It has continued ever since, and by all knowledgeable accounts this continuous flow of people seeking a better life is what has made and continues to make America great. Immigration is good because it ensures diversity.
Diversity is good – as every business person, investor, and geneticist knows – because diversity is what ensures strength, resiliency, and survival. Our nation's founders knew this, too. Even if they didn't always practice this value, they knew that in bringing together diverse people that we would be stronger for it. Indeed, in confirmation of this understanding, the Congress of the then emerging United States in 1782 adopted the motto: "E Pluribus Unum" – a Latin phrase that translates to "Out of Many, One." In today's translation, this American principle captures the concept of inclusion, all joining together for one great cause. Since 1873, this motto has been printed on all U.S. coin and currency as an aspirational value of our country.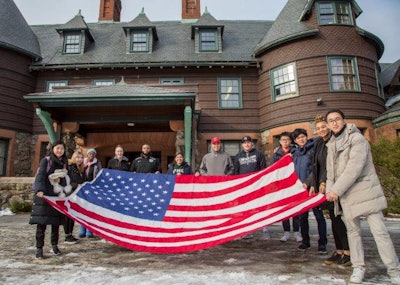 Last week, Pine Manor College received a gift from U.S. Congressman Joseph P. Kennedy III, who visited our campus last spring. His gift is a U.S. flag that has been flown over the dome of the U.S. Capitol Building. Receiving such a flag is a great honor as they are so rare and as the U.S. Capitol Building is a global icon of representative government. I wrote to the Congressman that I would accept this gift on behalf of the College and that we would fly it proudly knowing that it represents all of the United States, including the Pine Manor College community, and the values we hold dearly. We will fly it as a reminder that our community counts equally among our country's people, and of our commitment to preserve and protect our inalienable rights. We will fly it as a reminder also that the United States is the home of a diverse people, celebrated for their individuality, who together help ensure a better future for all – E Pluribus Unum!
Thomas M. O'Reilly is the President of Pine Manor College.