In this era of emboldened and undeniably racist discourse, Richard Hughes's Myths America Lives By is a breath of fresh air. Although the examination of the "mythical history" of America may initially seem familiar to readers, Hughes's thought-provoking historical analysis reveals the primal myth of White supremacy as one that fuels all other American myths.
By examining the five-fold mythical portraits of America as a chosen, natural, millennial, Christian, and innocent nation, the author argues that Whiteness is at the heart of each mythical notion. Whereas White supremacy is often dismissed as antithetical to American values or condemned to the margins of White nationalist organizations, Hughes contends that White supremacy is deeply embedded in culture and permeates the lives of every individual in the United States.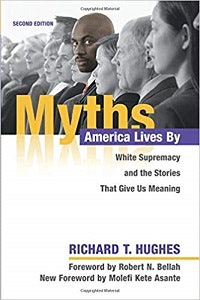 By illuminating hidden racist discourses, Hughes invites readers to examine the unacknowledged influence of White supremacy on their own perspectives and motivations. The book also challenges readers to evaluate the extent to which White supremacy defines contemporary racial conflict and national dissonance. Hughes presents a twofold argument in the book: (a) the myth of White supremacy is the central myth that informs the five other myths, and (b) the five other myths serve to preserve and conceal the myth of White supremacy and uphold the myth of innocence that is afforded to some Americans. Although the author criticizes the use of American myths to enact goals of White supremacy, the book concludes with a redemptive assertion that such myths can contribute to forging a new future.
Summary of the Book
Hughes opens the book with a brief summary of the five myths and creatively invites readers to contemplate the related strengths and pitfalls of our national stories. Rather than unequivocally rejecting these myths, Hughes asserts that, when Americans correctly pursue the noblest ideals of such myths, equal opportunity can and should be afforded to all. In actuality, however, American history and present circumstances illustrate the extent to which the vision of equality repeatedly falls short of reality. Through meticulously researched evidence, Hughes centers the divergent experiences of two Americas, one Black and one White, to illustrate how the nation's myths disadvantage Black communities for the benefit of Whiteness. Inviting readers to question the causes of a bifurcated America, Hughes progresses through the five myths to illustrate White supremacy as the root cause of our divided nation.
Hughes argues that notions of White supremacy are often shrouded by the other five myths and hidden from individuals with privileges afforded to White skin. Such circumstances result in the pervasive nature of White privilege and the ways in which racist ideologies nourished early American life and governance. To grasp the depth of White supremacy, Hughes recounts the racist statements of early and recent national leaders and thinkers, frequently pairing these illustrative quotes with scholarly commentary to highlight the connection between demeaning racial attitudes and government and commercial interests. Guiding the reader through centuries of relevant historical, religious, and cultural sources, Hughes critically illustrates the unrelenting influence of White supremacist beliefs in society.
Challenging readers to choose a future-oriented response, Hughes encourages readers to end the influence of White supremacy in shaping American identity. Such a response requires Americans to carefully discern how personal assumptions are shaped by the nation's mythical history and fueled by White supremacist convictions. Hughes, however, encourages readers to not fully abandon the five myths. In contrast, the book concludes that, when the five myths are not misused for White supremacy, these myths have the potential to produce an equal and just nation. Through this introspective process, readers are challenged to acknowledge and denounce the myth of White supremacy and construct ways to actualize the potential of the nation.
Historical and Theoretical Context
Hughes boldly proclaims that White supremacy hinders Americans from pursuing a new future and, instead, perpetuates mistakes of the past. To demonstrate this assertion, Hughes situates his insights as a seamless dialogue with historical leaders, history scholars, and cultural critics. Accordingly, the book's premises are skillfully interwoven with rich quotes from prominent Black activists, critical race historians, political leaders, and scholars (e.g., Michelle Alexander, James Baldwin, Ta-Nehisi Coates, Angela Davis, Frederick Douglass, W. E. B. Du Bois, Ibram X. Kendi, Coretta Scott King, Toni Morrison, Martin Luther King Jr., Ida B. Wells, Malcolm X) along with early colonialists and influential politicians (e.g., Thomas Jefferson, George Washington, Abraham Lincoln, Andrew Johnson, Woodrow Wilson). Hughes also traces and recaptures key historical events before, during, and after American colonization to highlight the mythic inner workings of White supremacy. The scholarly renderings of historical moments invite readers to pause and reflect on crucial American junctures that cemented the myth of White supremacy.
Presuppositions
Although the book critiques the absolutized versions of the five American myths through the lens of White supremacy, a primary presupposition of each argument is the inherent merit of such myths. From this perspective, Hughes advocates a redeemed new future is enclosed in these myths and abandoning such myths can lead to a hopeless spiral of national disintegration. Referencing the Civil War and Civil Rights
Movement, Hughes asserts that national myths provide the identity that binds the nation together during periods of national fragmentation. However, if the origins of these myths are rooted in imperial colonization and racist ideologies (Dunbar-Ortiz, 2014; Kendi, 2016), then such myths are also value-laden and intertwined with hate, bigotry and White supremacist attitudes. In other words, Hughes maintains that it is possible to extract worth from the same national myths that were constructed to colonize, manipulate, and abuse Black and indigenous populations. Readers may find themselves hard pressed to completely agree with the author's assumption of the value and potential of these myths to invoke an effective future-oriented response. Fortunately, Hughes also invites readers to reflect and discern the influence of White supremacy in one's life as a critical method to reimagine a new future.
By opening the book with a personal story, Hughes asserts his value of reflection and discernment. Through this story, Hughes humbly shares his own path toward writing this second edition and portrays the moment he learned about, and initially rejected, the assertion that White supremacy is a central American myth that shapes the contours of all other myths. Hughes demonstrates how White privilege had obscured his discernment of the pervasive nature of Whiteness. Continuing with this narrative technique, Hughes also uses the stories of Black Americans to uplift the voices of those who perceive the reality of White supremacy with acute clarity. In addition to the clarity to which first-person accounts support the understanding of complex concepts, Hughes states his faith-based motivations for centering minoritized perspectives. As a White scholar and Christian historian, Hughes writes with bold conviction and honesty about race in America. The approach to which the author reveals his positionality and privilege as a White Christian scholar may inspire readers, who identify similarly, to listen and learn from diverse perspectives that differ from their own.
Evaluation
In the era of Trump and heightened racial injustice, many Americans have wondered, why is there such extreme racial conflict and tension? Myths America Lives By is an essential read for those interested in shattering the cycle of racism and imagining a new way forward. The book strikes the perfect balance between intellectual knowledge and heartfelt story-telling. Such an approach invites readers to critically examine how they have perpetuated or been harmed by White supremacy, even in subtle forms. In reading the Myths America Lives By, I also self-reflected to investigate how White supremacy has been used by and against me as a Chinese cis-gender woman. Specifically, as an individual with both light skin and Asian heritage, I have benefited from and been harmed by White supremacy. Similarly, as readers progress through the book, they may be compelled to examine the presence and pervasive influence of White supremacy in their own lives.
Inviting readers to acknowledge their role in perpetuating Whiteness, Hughes encourages readers to dispel commonly embraced national myths and confront the pervasiveness of White supremacy. Although Hughes examines the myths through Black and White perspectives, the author's analysis of White supremacy can also be extended to illuminate other exclusionary ideologies (e.g., Islamophobia, Xenophobia, anti-Blackness, anti-Semitism) that are concealed behind America's mythical history and protect Whiteness. Ending the book with a compelling plea that readers diligently hold on to hope, Hughes urges readers to not forsake the dream of a better future and to resist oppressive myths.
Grace Poon Ghaffari is assistant director, Education and Outreach Manager at Stanford University.