They sat totally engrossed in their laptops.  Two little Black girls, unblinking as they followed the directions of their teachers.  If it weren't for the fact that they were bundled in coats and tiny hats, you could have mistaken them for children in a classroom.  That, and the fact that they were sitting on the ground outside the doorway of a national chain.
I have spent much of my career fighting for little girls just like this to have access to broadband so they can dream big and chart their own futures.  All of my fancy words were dwarfed by a pandemic that brought this stark reality to our doorsteps. Overnight, the digital divide became a digital chasm with Grand Canyon proportions. Instead of a Homework Gap, we now have an Education Gap—no schoolwork at all—for millions of school-aged children.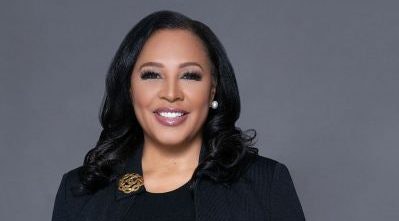 According to a survey by Common Sense Media, no major city in the United States can honestly claim they've fully closed the digital divide. Not even one of the 50 states can claim victory in this race. When children are missing out on an education—whether it's one child or one million children—a better result than the other losers is simply not good enough. The digital divide was already a national emergency; the pandemic just brought this disaster in living color to every home in America.
More and more, it is clear to me that women must step up and speak out not just for our children but ourselves.  This failure to connect everyone leaves women especially vulnerable not just educationally, but in terms of our health and our livelihood.  These two little girls who haunt my dreams, are not an aberration, a footnote, or exclamation point in a story.  They are the future and we need a real plan, a call to action to end their story in the triumph rather than the drama of being left behind.
I began thinking about the National Urban League's (NUL) Latimer Plan, a comprehensive strategy to achieve universal broadband. Louis Latimer is the son of former slaves who worked with both Thomas Edison and Alexander Graham Bell.  This modern Latimer Plan looks at all the problems contributing to the digital divide.  In other words, all of the reasons why two little girls dressed in winter coats have to sit in the cold to do their homework.
To solve their problem, rural and urban communities need to have broadband available in their communities.  We need to pinpoint precisely who has broadband and who does not.  Then we have to create an environment so that they can afford the technology and utilize it effectively to adopt it in their daily lives.  Finally, our children need access to the world and the economy created by broadband.  If you worked in the tech sector, you could work from home indefinitely. This is a game changer for families who understand the importance of keeping their income flowing.
These two little girls are emblematic of the difference between the haves and the have nots.  As we all know from any famous science fiction movie, the way to truly exile anyone is to send him or her to a "distant planet"… you know, the one with no technology, no communications, and no link back to the rest of the universe. In 2021, we cannot afford to banish anyone from today's digital world.  I want a world where people are looking to give these smart girls a job because they will have all the right tools and skills to get the job done.
The time for rhetoric and fancy words is a luxury none of us can afford. We need an action plan to connect them to a future that is already here.  NUL's Latimer Plan will bring disconnected Americans out of the past.  More importantly, it will serve as the blueprint to connect us all to the future.
Kim Keenan is the co-chair of the DC-based Internet Innovation Alliance (IIA) and was the longest-serving female general counsel of the NAACP.