The subject of faith is one that means different things to different people. To some it can be attached to a religion, to others it is something that is practiced but may not be formally categorized as "faith". I contend that being intentional about the proactive exploration and application of faith is a practice that institutions and instructors can emphasize to better prepare students for their careers and for life.
Faith is something within you telling you that it will happen, even if you don't know how it's going to happen. It can be stepping out on nothing and believing that you will land on something. It is "the substance of things hoped for, the evidence of things not seen" as the book of Hebrews in the Bible defines it. Empowering yourself as a student to deploy the power of faith can unlock the doors of your promise and potential.
Faith can not only be considered and taught from a religious perspective but also from a practical perspective. We can tap into it at any given time. It can be intentionally utilized for both individual and collective progress. The late Congressman John Lewis wrote in his book Across that Bridge: A Vision of Change and the Future of America: "have you ever considered that the same power you activate in the midst of adversity can also be consciously utilized to bring forward the kind of change or transformation you would like to see in your own life? In the Civil Rights Movement, we actively and consciously utilized the power of faith to move our society forward."
He was referring to the intentional utilization of faith. Faith can be consciously employed and deployed to overcome significant obstacles. Faith is a multi-dimensional force that can be channeled and used to prepare you to face the inevitable array of adverse circumstances that are sure to come.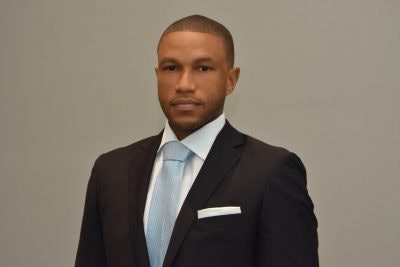 If there is one thing that is guaranteed across career fields and industries, it is adversity. There is virtually nothing that one can do to avoid facing adversity at some point. Adversity can come unexpectedly, or it can be something that was visible on the horizon. It can be something that people have formally prepared and trained for or it can be something that they are blindsided by. There are situations that seem to be bigger than what one has the capacity to face, when "logical" strategies won't be enough to bail a person out, but there is faith.
The more prepared you are to deal with adversity, the more you will be able to thrive in the face of adverse circumstances. Adversity is a great faith developer. You really don't know what kind of faith you have until you are tested. Tests and trials are measuring sticks for faith. With every new chapter comes new challenges so know that you are going to be tested. You are going to have pain that you have inflicted on yourself and pain that is a part of the journey. There has never been a great lesson or a great victory without having to overcome a great challenge. The greater the faith, the greater the blessings.
A person who has great faith in the process that they are engaged in can use that faith to persevere through adversity, remain committed through trials, and pass all of the tests that are required to advance to the next level. Adversity causes you to focus on what truly matters. If you could figure it out by yourself then you wouldn't need faith. Faith is what enables you to move past your previous conceptions of limitations.
How do you tap into your faith to face and succeed against seemingly insurmountable odds? The way that you can overcome the odds and challenges is to believe and staying true to your calling. The faith-based way is to be authentic and run your own race. Everyone has been called for something unique. It is imperative to hold on to the faith that you can do it and will do it. Understand your calling and holding on to it opens the way for the persistence that is needed to achieve big goals.
It will get hard but have faith that you're on the right path. Faith allows you to overcome those turns that are a little bit harder. It doesn't allow you to get off the exit quickly. The fear will subside if you keep going.  Faith doesn't retreat. You can use faith in the preparation process and move confidently through tests and trails.
It takes faith to believe that everything that you are doing is going to lead to fulfilling your mission. You have to believe it in your core and work on your mission every single day and trust and believe that things will happen for you. Faith encompasses and requires belief. It is vital for you to have enough faith to believe that you can and will become the things that they are working towards even if there is no proof that it's going to work other than you believe that it's going to work.
Faith is like working out, you have to tap into it every day. Faith requires vigilance. It is connected to patience and persistence. It is necessary to trust the faith development process. You have to build your spiritual muscles. Put your faith to work. This involves priming your mind every day. Visualization is one technique that can be utilized to strengthen the faith muscles. Visualize yourself at the finish line. See yourself there already to contend against doubt creeping in. It takes faith to believe that things will happen for you. See it and have enough faith that you will get to the finish line.
Visualization also helps to clarify goals and it presents opportunities for creativity to develop in the journey of devising ways to accomplish these aims. Creating a vision of where you would like to be and fervently believing that that vision will manifest itself is a faith workout that pays dividends, broadens horizons, and ushers in breakthroughs.
Faith can be applied to life's situations and circumstances. It can be applied to action, strategy, compassion, purpose, dedication, and processes. It can be poured into relationships, partnerships, and collaboratives. Faith is versatile and multidimensional. It can't be put into a box. Faith can be used as an instrument of deliverance. It can deliver you, your family, and your entity through adversity.
You have been using faith when you may not have even known to call it faith. You have overcome challenges because you had the belief that you could overcome them. You were able to do what you may have once thought was impossible and bigger than you though you had the capacity to get through. That is faith even if you didn't label it as faith at the time.
Faith is the transcendent force that liberates you from external and internal boundaries. Faith gives you the creativity that you need to navigate around any obstacle, to climb any mountain, and to leap over any hurdle. Utilize the "faith factor" to fulfill your purpose and step into your "Promised Land". You can do it with faith!
Dr. Marcus Bright is a scholar and educational administrator.