My great-grandfather Lloyd Newton Ellis Sr. made himself into an American success story. He served his nation honorably for 30 years — through three wars — in the U.S. Navy. He started out in World War II as a stewardsman, one of the few roles available to Black sailors prior to desegregation in the armed services. He later attended hospital corpsman school and eventually attained the rank of chief hospital corpsman — a testament to his steadfast belief in the power of education to break down barriers.
Shortly before retiring from the Navy, he decided to get a college degree in business. But where and how? In the early 1970s, my great-grandfather was a rarity in higher education at a time when half as many African American students were enrolled in college as today. The typical college student in those days was likely a white recent high school graduate with parents who could afford to pay for college. My great-grandfather — a Black man in his 40s who would be the first in his family to graduate from college — was none of those things.
On many college campuses today, my great-grandfather would be much closer to the norm. Data compiled by the Lumina Foundation show that nearly 40 percent of college students are 25 and older, 64 percent work at least part-time, and more than a quarter have children or dependents. More than 40 percent are students of color. Almost half are the first in their family to attend college.
This diverse population of college students needs support from universities now more than ever. Adult students need flexible class schedules to fit around their family, childcare and professional responsibilities. Students from underrepresented backgrounds need institutions to value diversity, equity and inclusion—and live up to those principles through the programs and services they offer. And military veterans like my great-grandfather need schools that understand and respect their lived experiences, which are not the norm in the era of the all-volunteer armed forces.
First-generation college students, in particular, need additional support to help navigate the challenging world of college access and success. They are more likely than second- and third-generation students to attend college part-time, serve in the military or have dependent children, according to research from NASPA's Center for First-Generation Student Success. Sixty percent of first-generation students are women; a quarter are Latino; and nearly 20 percent are Black.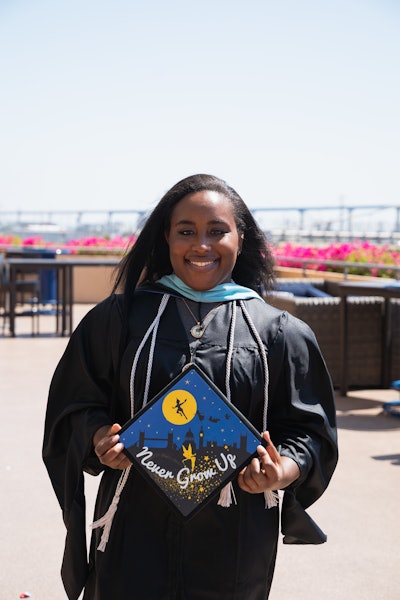 While the population of first-generation students has continued to swell, the barriers are still significant. First-generation students who depend on their parents to pay for college report a median family income of just $41,000 — less than half of those who have college graduates in their families. First-generation students often start out with less academic preparation — only 6 percent completed an advanced-level math course before enrolling in college — and are more likely than other students to stop-out before completing a degree or other credential.
Statistics also show that first-generation students are finding their way to the financial aid office, but are less likely to access student health services, academic advising and other campus-based supports. Universities must do more — offer more convenient hours and remote services — to make sure this student population can get the guidance they need to stay on track and graduate.
As a student of education, I have learned about the importance of focusing on the strengths and assets of every learner to understand how best to serve them. Rather than viewing students based on deficits that must be addressed, we must ask ourselves how all institutions of higher education can adjust to meet their needs — not the other way around.
My great-grandfather was lucky. When he decided to get his degree, he was stationed in San Diego — where National University, a brand new education and training program founded by a Navy veteran, had just launched to help serve adult learners and active-duty service members in the region. My great-grandfather got exactly the help he needed from a school being built from the ground up, literally, for students like him.
That degree paved the way for his success after retiring from the Navy. He became a nursing unit manager at the UC San Diego Medical Center and later worked in real estate.
But college students shouldn't have to depend on geography. When I enrolled in my master's program, I was living in Texas, where I was teaching full time and helping care for my ill grandmother. I couldn't have earned my master's degree without the types of flexible support that respected my important family and job commitments.
My great-grandfather persevered — and so did I. His ability to crack open the door to college and squeeze through to get his degree inspired many of my family members to get their bachelor's and even their master's.
Flash forward nearly fifty years later. Sept. 17, 2021, was a special day for me and my family. That's the day I got my master's degree from National University, with 10 of my family members able to watch and cheer me on as I walked across the stage. This included my parents, both of whom had previously earned their master's degrees from the same institution. We now have four generations of college graduates in my family. It was all made possible because my great-grandfather was able to enroll in and complete college while still in the Navy — at a time when the odds were stacked against him.
First-generation college students are exceptional in this sense: they represent future generations yet to come who stand to benefit from the promise of college access. My great-grandfather is proof that college education can change the trajectory of not just one person, but an entire family.
Iyana Cones, a sixth-grade teacher at Rancho Christian School in Temecula, California, received her master's degree in social emotional learning from National University and is pursuing a doctorate at Northcentral University.