The late Philadelphia-based pastor and civil rights leader Rev. Leon Sullivan said during an economic justice push that he led with 400 fellow ministers in the early 1960s that "integration without preparation is frustration." Efforts are in place now to integrate more people into career pathways in the emerging tech sector and wealth building opportunities in the blockchain technology and cryptocurrency space. Sports can play a major role in helping people to be better prepared to participate in what will be a significant part of the economy of the future.
Sullivan's efforts in Philadelphia were later adopted by Dr. Martin Luther King Jr.'s Southern Christian Leadership Conference (SCLC) through an initiative called Operation Breadbasket, which was the central thrust of their campaign for economic justice in Chicago and other northern cities. 
The issues of economic inclusion that Sullivan and King were battling are still being waged but on a new terrain. There is a need to regenerate these kinds of efforts in fields like technology where jobs and economic growth have been accelerating in recent years. The use of sports as an organizing tool can be a powerful force for the dissemination of information and opportunity.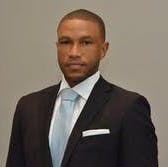 Dr. Marcus Bright
Rising Coaches, an organization for coaches that connects, develops, and facilitates career advancement for them, is planning to combine basketball instruction with innovative technology sector exposure to produce transformative economic advancement opportunities for students and parents. "Operation TechBasket" is an initiative from the organization that will expose students of all ages to blockchain technology, computer science, and potential careers in the tech sector in addition to helping to build a workforce pipeline from colleges and universities to employment and entrepreneurship opportunities.
The economic empowerment of individuals and communities through greater inclusion and opportunity in the tech sector is the overarching goal of this initiative. The power of basketball to bring people together and facilitate many life lessons will be leveraged along with the expertise and support of technology-oriented companies to provide top-notch basketball skills instruction and exposure to computer science, blockchain technology opportunities relating to cryptocurrency, and tech career pathways.
The two main components of this initiative are an Economic Empowerment Series of on-campus workshops at colleges and universities across the nation and multi-day summer youth basketball camps which will include programming for students, parents, and community members designed to be both enjoyable and informative.
The more economically empowered people are, the less likely they are to be in negative encounters with law enforcement officials, the better able they are to support their children's education, and the more quality of life options such as housing and transportation that will be attainable.
There is a need for a renewed focus on both self-help and public policy oriented economic solutions for the gaps that currently exist as it pertains to financial prosperity and wealth accumulation to close. This involves going where people already are and where they want to be. Sports like basketball embody this for many people either as participants or as parents of the participants. They can be leveraged as a distributor of economic opportunity.
Operation TechBasket from Rising Coaches is just one example of what can be done to leverage the convening power of sports to produce social impact. Many activities such as school homecomings, tailgating, alumni functions, band performances, and the like are all frequently tied to and planned around sports. These are great opportunities to expand the distribution of exposure and information related to economic empowerment.
Dr. Marcus Bright is a scholar and educational administrator.