Thousands gathered at the Lincoln Memorial on Saturday to mark the 60th anniversary of the 1963 March for Jobs and Freedom. They came looking to the organizers of this year's "Not a Commemoration, a Continuation" march to help transform a public demonstration into a robust legislative agenda that can aggressively counter the recent assaults on American democracy.
That certainly was the thinking three years ago, when more than 100,000 marchers traveled to the nation's capital at the height of the COVID-19 pandemic, to publicly protest the brutal killing of George Floyd and to call for sweeping police reforms.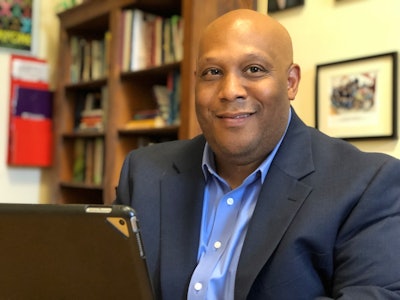 And while Congress has yet to pass the Justice in Policing Act—which would establish a national standard for policing—the Commitment March of 2020 organized by Reverend Al Sharpton, established key priorities that resulted in major legislative victories throughout the country, including the banning of chokeholds and no-knock warrants in some states, and the mandatory use of body cameras in others. And lest we forget, on the one-year anniversary of Floyd's death last May, President Biden—with George Floyd's daughter Gianna, and Sharpton standing behind him in the East Room of The White House—signed a historic executive order to improve accountability in policing. The executive order requires federal law enforcement agencies to review and revise policies on use of force and create a database to help track officer misconduct.
These criminal justice reforms should not be considered small feats, but monumental achievements in the ongoing struggle to marry protest with policy. It's not a new strategy for sure, but one that the 68-year-old Sharpton has aptly borrowed from Dr. Martin Luther King Jr., and other civil rights leaders who successfully employed this tactic throughout the 1960s.
It took nearly two years after King delivered his famous "I Have a Dream" speech on the steps of the Lincoln Memorial on August 28, 1963, before President Lyndon B. Johnson signed the Voting Acts Act into law. That groundbreaking piece of legislation was directly tied to the 54-mile march from Selma to Montgomery that civil rights leaders staged in response to the horrific events that occurred in 1965, most notably the brutal death of a 26-year-old Black Alabama man name Jimmie Lee Jackson; the murder of a white Unitarian minister from Massachusetts named James Reeb, and the bloodied beating of John Lewis, Hosea Williams and others on the Edmund Pettus Bridge.
With the 2024 presidential election on the horizon, Sharpton knows—perhaps better than anyone else—the importance of formulating a public policy agenda that can aggressively chip away at the roadblocks that have been erected to dismantle affirmative action, abortion rights, the banning of books and attempts by governors to do away with the teaching of Black history.
Throughout history, mass protests and demonstrations have always been affirming. These rallies and marches provide a public forum for ordinary citizens to air their grievances. But the real work to enact meaningful legislation that will translate into change, begins after the marches and rallies end. Such an effort will require bringing new voters into the fold, shoe-leather visits to Capitol Hill and a sustained campaign to keep key critical issues at the forefront of the national agenda.
It can be done, as Sharpton proved in 2012, when he and others called into question the New York Police Department's stop-and-frisk policies. After thousands of people took to Fifth Avenue to protest law enforcement's decision to single-handedly stop-and-frisk mostly Black and Latino men, the practice was ultimately deemed unconstitutional. Former New York City Mayor Michael R. Bloomberg apologized in 2019 for his support of this policy.
There are countless other models too, including the reforms that the state of New Jersey put into place following the marches and protests led by Sharpton after four young men of color were shot and injured by police on the New Jersey Turnpike in 1990. They were the victims of racial profiling.
"Marching is not designed to solve problems," Sharpton often quips. "Marching is designed to expose problems."
With a captive national audience at Saturday's march, and a citizenry growing agitated and restless by the assaults on civil rights, the opportunity to enact progress rest with all of us.
We marched on Saturday, and now we must turn our focus to legislation that will finally protect the rights of all.