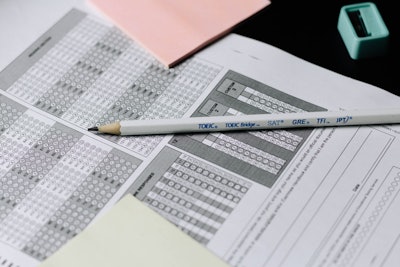 Standardized tests are a fact of life for high school students desirous of attending college and for college students or graduates aspiring to attend professional schools and graduate schools. Under the Americans with Disabilities Act (ADA), testing companies must provide accommodations to individuals with disabilities.
In its "Higher Education: Testing Companies Most Commonly Granted Extra Time to Accommodate Individuals with Disabilities" report issued this week, the U.S. Government Accountability Office (GAO) examined the types of accommodations requested, how those requests are evaluated, the accommodations granted, and the challenges associated with granting those accommodations. The GAO reviewed data from the six testing companies that administer the ACT, AP Exams, GMAT, GRE, LSAT, MCAT, PSAT and SAT and interviewed officials from the companies.
The GAO analyzed data come from 2019 to 2020 and considered relevant laws and possible ADA violations. The Department of Justice issued a technical assistance document in 2015 to clarify ADA requirements.
Officials from the testing companies said they considered factors such as how a disability would affect an individual's ability to take the test under standard conditions. They also considered whether an accommodation could impact a test's validity. One example that could impact validity was someone requesting less choices in a multiple-choice test.
The most requested area of accommodation is extra time at 55%. Alternate test format was also requested at 6% along with auditory or visual assistance at 6% and adjustments to the testing environment at 22%.
In 2019-20, the most common accommodations granted were for extra time or adjustments to the testing environment. Extra time was also the area with the largest discrepancy between requested and granted. There was minimal discrepancy between requested and granted for auditory or visual assistance. Across five of the six testing companies with available data, 86% of individuals received all their requested accommodations, 9% received some, and 5% were denied all requested accommodations. These rates varied among individual testing companies.
"There is some variability across the companies," said Melissa Emrey-Arras, director of education, workforce and income security at the GAO.
GMAC, the nonprofit association of business schools that administers the GMAT exam (for business schools), sent a statement indicating that it makes its products and services as broadly accessible as possible. "We are committed to ensuring that test takers with disabilities have equal access to our exams and assessments by providing the appropriate accommodations," the statement read. "We review accommodations on a case-by-case basis and seek to understand functional requirements on all documentation submitted. Our goal is never to require candidates to undergo unnecessary hurdles, and we do our best to offer as much flexibility as we professionally can and without sacrificing the equality and fairness the test means for all candidates."
The Association of American Medical Colleges, which administers the MCAT® Exam for individuals seeking to attend medical school, referred Diverse to its webpage MCAT® Exam with Accommodations, which contains information about the application process and how to schedule an exam with accommodations. The need for supporting evidence is clearly stated as well as suggestions for timing, as the review cycle may take up to 30 days.
The report noted that problems could arise for high school students looking for their schools to assist them in requesting accommodations. Schools unfamiliar with such requests, particularly under-resourced schools, may not be able to serve their students' needs.
"That's raised as a challenge that can be present for test takers," said Emrey-Arras. "If the student is coming from an under-resourced school and the school is not familiar with the accommodations process or doesn't provide much in the way of help on that front, then it is more difficult for students to navigate that process.
"There can also be a challenge for students at the college level who are applying to graduate and professional programs that they may not have supports for assistance in that accommodations process," she continued. "You can see the need potentially at both the high school level and at the college level for … adequate assistance."
Acceptable documentation of a disability proved to be problematic for some individuals. Five of the six testing organizations described challenges in reviewing and granting accommodation requests. Emrey-Arras said disability advocacy organizations interviewed expressed concern about documentation requirements.
"Cost has been cited as a barrier for documentation," said Emrey-Arras. "Depending on the situation, some testing companies require updated or more recent evaluations for certain conditions, and the cost can sometimes be in the thousands of dollars to obtain those evaluations."
The report identified challenges that have arisen due to the COVID-19 pandemic. For example, someone who requires an aide, such as a reader, is impacted by the need for social distancing. Also, obtaining necessary documentation was more difficult in a COVID environment, said Emrey-Arras.
GMAC noted the organization receives nearly 2,000 accommodation requests per year. Since 2020, it has worked hard to accelerate the response time. "In addition, we ask every GMAC assessment taker to give us feedback on their experience through a satisfaction survey and work continuously to enhance the registering and test process based on their input," said GMAC in its statement.
The GAO issues reports to Congressional requestors. Emrey-Arras said this report helps people understand that accommodations are available.
"It is interesting for those who have disabilities and those who are assisting those with disabilities to have an understanding of what the most common accommodations are," said Emrey-Arras. "We're presenting the information, so people understand what the process is for accommodations requests … and it's helpful to know what the patterns are in terms of accommodations in addition to knowing that they're available."