A group of organizations is calling for the U.S. Department of Education (ED) to expand its collection of admissions data and disaggregate that data by race and ethnicity to address racial and ethnic gaps in bachelor's degree attainment.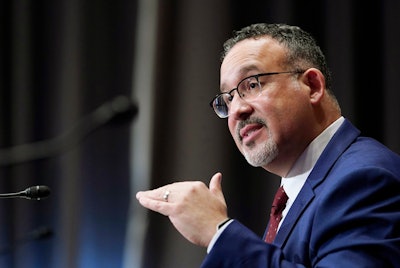 In a Feb. 1 letter addressed to Education Secretary Dr. Miguel A. Cardona and Under Secretary James Kvaal, the group said that existing gaps could be exacerbated by a U.S. Supreme Court decision that may prevent schools from considering race in admissions.
Group members include College Promise, Education Reform Now, NAACP Legal Defense and Education Fund, Inc. (LDF), the National Urban League, and The Education Trust, among many more.
"While racial and ethnic gaps in the attainment of a high school diploma have shrunk significantly since 1981, they persist in bachelor's degree attainment," the letter read. "The high school diploma gap between Black and White adults has significantly narrowed, but Black adults remain 10 percentage points less likely to have a BA than White adults are. Between White and Hispanic Americans, the bachelor's degree gap has actually gotten worse: 38% of White adults have a BA, but just 21% of Hispanic adults do.
"If these gaps are to shrink, policymakers, researchers, institutional leaders, equity advocates, families, and communities will need a better understanding of their causes."
The letter authors called on ED to expand its Integrated Postsecondary Education Data System (IPEDS) to include racial and ethnic demographic data for applications and admits, whether a school considers an alumni relation in admissions, and whether a school offers an early decision and/or early action.
"If policymakers, researchers, advocates, IHEs, and students are going to understand the impact of existing admissions practices on access as well as the impact of the elimination of race-conscious admissions practices, should the Court decide that way, they will need richer information about the entire admissions process at public and private IHEs, including data on admissions practices that harm diversity and access," the letter read.