With the U.S. Supreme Court expected to deliver a ruling that outlaws affirmative action as early as next week, the 35th National Conference on Race and Ethnicity in Higher Education (NCORE), which has drawn over 5,000 administrators, scholars, and students to New Orleans, featured a session Wednesday on how colleges can respond.
The well-attended presentation, titled "Racial Justice on Campus in a Post-Affirmative Action World: What Colleges Can (and Must) Do Now," was delivered by Tim Wise, the activist and writer behind White Like Me: Reflections on Race from a Privileged Son and Dispatches from the Race War. During his presentation, Wise painted a grim picture.
Wise discussed all the main proposed alternatives to affirmative action and explained why they are unlikely to match affirmative action's ability to increase campus representation. Replacing race-based measures with class-based ones, for example, might boost diversity numbers somewhat from what they otherwise would be but wouldn't compare to affirmative action because the majority of people with lower socio-economic status are white. Additionally, Wise pointed out, the test scores of lower-class white people are often higher than those of middle-class or upper-class African Americans, which he attributed to stereotype threat—pressure that comes from the risk of confirming a negative stereotype about one's group.
Wise also criticized top 10%-style plans, in which the top students at every high school in an area are automatically awarded spots in colleges as a means of achieving diversity. This diversity, said Wise, is because of inequalities and segregation in the K-12 system, and the plans put equity at the K-12 level and in higher education in tension. In states where they have been tried, such as Texas, they also have not resulted in diversity comparable to that of affirmative action over time, Wise argued. He had a similar criticisms of holistic review, reducing reliance on early admissions, and expanding the number of transfer students admitted from community colleges.
"Nothing works like actual affirmative action at boosting diversity and inclusion," Wise said.
But Wise believes that the debate over affirmative action hides a deeper problem. After all, affirmative action only affects a group of around 165 elite colleges and universities that only 15% of Americans attend. What really needs to happen, he noted, is a re-thinking of what he described as an elitist, capitalistic, hierarchical approach to higher education, where some schools are valued more than others.
"Why do we buy into the mentality that it's more important to get a statistical handful of Black and brown students into UC-Berkeley or UCLA, as opposed to ensuring that UC-Santa Barbara and UC-Santa Cruz and all of the other state institutions are just as excellent as they can be?" he said.
The author's rhetoric stirred up the room, earning cheers and a shout of "Preach!" But he was light on the specifics for how this quest could be achieved, or even begun. The most concrete proposal that Wise offered for reforming admissions was a move to a lottery system, in which students with grade point averages or test scores above a certain threshold would be selected randomly. However, research has shown that lotteries lead to less equitable racial results, even if the pools are stratified by income.
There may simply be no good solutions to the problem of diversity in a post-affirmative-action era. And although lotteries may not be the answer, Wise's argument that there needs to be a complete shift in mentality resonated strongly.
Wednesday's keynote speech was delivered by the writer and civil rights lawyer Michelle Alexander, author of The New Jim Crow: Mass Incarceration in the Age of Colorblindness. Alexander noted the progress that had been made since the 2010 publication of that book—the number of areas that have banned job interviewers from asking about prior convictions, the number of states that have legalized marijuana, and the strides made by the prison abolition movement. But she pointed out that there is still roughly the same number of people behind bars as there was a decade ago, as well as the continuing threat of white nationalism as an obstacle. Ultimately, she argued, achieving the goal of radically reforming the justice system may take even more courage than was needed in the Civil Rights Era.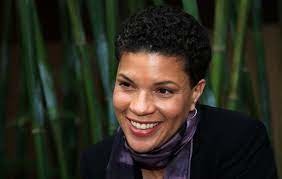 Alexander described mass incarceration less as a problem of prisons and more as a caste system of racial and social control, with millions of people swept into the system. When asked for her thoughts on programs that bring higher education to prisons, Alexander described them as "absolutely necessary and vital," and as "affirming the dignity, value and brilliance that we've locked behind bars." But Alexander was cautious about the impact of such praise, saying that she was worried that people thought that the prison system could be fixed if it had better mechanisms for rehabilitation.
In response to a question from moderator Dr. Kalenda Eaton, an associate professor of African and African American studies at the University of Oklahoma (OU) and an executive committee member of OU's Southwest Center for Human Relations Studies, Alexander said that she felt that there was a connection between the pushback that she received in the early days of her work and the current opposition to DEI initiatives and Critical Race Theory, but pointed out that the push towards mass incarceration in the 1990s was bipartisan and that one of its leaders was President Joe Biden.
Therefore, Alexander said, "It's important to be willing to fight our friends. If people had said no to the drug war, no to mass incarceration, we wouldn't be facing the challenges that we are today. In some way, the people locked up served as the miners' canary."
Although Alexander said that she didn't know the best advice for people trying to organize resistance on campus, she harkened back to the fight to establish Black studies programs and said that similar courage and militancy would be required.
Alexander concluded her time on stage by calling for personal revolution as a means toward social justice.
"I don't think we can 'win' through power struggles and politics alone; I think we are going to have to evolve as people if we are going to prevent the collapse of this fledgling democracy, which has yet to become a full democracy," she said.
She finished with perhaps her boldest statement, which was met with rousing applause.
"I'm less interested in saving this [democracy]," she said, "than I am in birthing a new one."
Jon Edelman can be reached at JEdelman@DiverseEducation.com