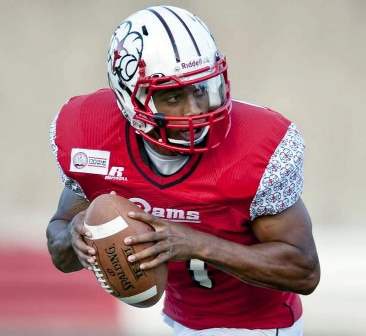 The Winston-Salem State football team is back at practice and preparing for its third consecutive appearance in the NCAA Division II playoffs following a tumultuous weekend.
The Rams practiced at 6 a.m. Monday for the first time since their matchup with Virginia State in the CIAA Championship Game scheduled for last Saturday was cancelled. The game, and other championship weekend activities scheduled to be held on the Winston-Salem State campus, was called off following an altercation Friday during a luncheon sponsored by the conference to honor both teams.
All-CIAA quarterback Rudy Johnson, who was injured when a group of players from Virginia State allegedly beat him up in a bathroom during the luncheon, practiced with the team despite a swollen eye. Coach Connell Maynor says he expects Johnson to play when the Rams host Slippery Rock Saturday.
"There was no damage to the eye socket,'' Maynor says. "Rudy is back and he's fine. The eye is black and blue, but he's ready to go.''
Johnson's eye was swollen shut after he was treated and released from the hospital Friday, and it was unlikely that he could have played Saturday.
Virginia State running back Lamont Daniel Britt has been charged with misdemeanor assault inflicting serious injury. No other participants have been identified. The CIAA and Virginia State are conducting separate investigations into the incident. Virginia State President Keith Miller says that Britt has been suspended indefinitely pending the completion of the school's investigation.
CIAA Commissioner Jacquie Carpenter cancelled the championship game after Maynor and Virginia State coach Latrell Scott said they couldn't guarantee that they would be able to control their teams if there were any sort of incident during the contest.
The conference also declared Virginia State ineligible for postseason play. The Trojans were ranked No. 6 in their Super Region One and in all likelihood would have made the 24-team field with a victory against Winston-Salem, the 2012 Division II runner-up.
The Rams were ranked No. 2 in Super Region Two last week, but fell to the No. 4 seed when the field was announced Sunday.
"There were never any doubts that we would make it in,'' Maynor said. "I didn't think we should have dropped. But we have to go with it. The beauty of the playoffs is it doesn't matter where you're ranked, you still have to play on the field.''
Had the Rams not dropped, they would have received a bye as one of the top two ranked teams in the region.
Scott, during a conference call Monday, acknowledged that Britt made a bad decision. Scott also said that four other Trojans players were questioned, but Britt is the only one who has been charged. He added that there was "a rush to judgment" following the incident.
Winston-Salem State athletic director Bill Hayes says Virginia State has portrayed the incident as a fight between Johnson and Britt. Hayes takes exception to that narrative and says Virginia State is "covering up" for the other players who were involved.
Hayes says two Winston-Salem athletes were in separate stalls using the commode when the group of Virginia State players entered the bathroom. According to Hayes, when Johnson came in to wash his hands, one the players, who was Virginia State's starting quarterback, began talking about his exploits at his previous school and identified Johnson as Winston-Salem's third-string quarterback.
Johnson's response was that he would let his play on the field speak for him. At that point, one of the players tapped Johnson on the shoulder. When Johnson turned around, someone "knocked the fool out of him," Hayes says, and the other Virginia State players began punching and stomping him.
The incident has reverberated throughout the ranks of Black college football.
"It's embarrassing, unacceptable, bad and disappointing," says ESPN College Football Analyst Jay Walker, an All-American quarterback at Howard University in the mid-1990s. "They make a mockery of the opportunities that they have. It's a black-eye for Black college football, but it was the right move to cancel the game.''
Former South Carolina State coach Willie Jeffries, a member of the National Football Foundation College Football Hall of Fame, says he doesn't recall a similar incident taking place in all the years he has been involved in football.
"During the years when we played and I coached, guys always got along," Jeffries says. "We looked forward to meeting each other. We had a lot of camaraderie between the guys. They're the two best teams. They should be complimenting each and get out on the field and play hard. I didn't put up with none of that. I hate it was an HBCU, but it tarnishes the sport as a whole.''
SWAC Commissioner Duer Sharp says his conference nearly had a similar situation a couple times in recent years during its football championship luncheon for the competing teams. On the advice of the Student-Athletes Advisory Committee, which said athletes didn't care about attending a banquet, the conference has done away with the luncheon. Instead, athletes participate in community service projects.
"You don't want to impact the experience of student-athletes negatively," Sharp says. "When you listen to the kids, you can't go wrong. It is unfortunate the incident happened. I have faith in Commissioner Carpenter and how she's handling it. You hate to see the game cancelled. It's just another issue we have to deal with. We'll take this situation and look at it different ways to come up with a solution."
In the meantime, Maynor says he doesn't expect the incident to have a residual effect on his team when it takes the field against Slippery Rock. In the end, the unexpected open date could even benefit the Rams, who have a nine-game winning streak and didn't have a bye during the season.
"We kind of laid it to rest (Sunday) night," says Maynor. "It was a long weekend. It does the team good to get back [to] practice, go to class and do the things we normally do.
"When you're playing good and rolling, it's always good to keep rolling," he continued. "Actually it turned out to be a bye. Anytime you get a weekend off, you can get fresh bodies; guys heal. That's always good."