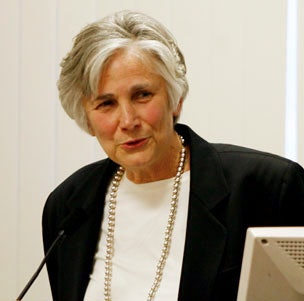 INDIANAPOLIS ― American education has been besieged by an onslaught of "hoaxes" that threaten to undermine traditional public schools and demoralize teachers.
That's the message that New York University research and education professor Diane Ravitch delivered over the weekend to kick off the annual conference of the American Association of Colleges for Teacher Education.
In a far-reaching speech in which she lambasted a variety of players on the educational landscape — from self-styled education "reformers" to Teach for America to U.S. Secretary of Education Arne Duncan — Ravitch said American schoolchildren are being shortchanged by an inordinate emphasis on testing.
She took particular aim at teacher evaluation models known as value-added models, or VAMs, that seek to measure teacher effectiveness by the test scores of the students they teach.
"For nearly five years, states and districts have been trying to evaluate teachers by test scores, and it hasn't worked anywhere," Ravitch said. "It makes testing too important, promotes teaching to the test, and gaming of the system.
"We know all know this. But the policymakers don't. Where's the evidence? It's a hoax.
"By 'hoax' I mean a legislative mandate or a program that you must obey that has no evidence behind it," said Ravitch, who donned a black T-shirt emblazoned with the words "Where's the Evidence?" to help underscore her point.
She further criticized calls by Secretary Duncan and others to evaluate teacher prep programs based on the test scores of students taught by program graduates.
"That's a long stretch and takes 'value-added' to a higher level of absurdity," Ravitch said.
"So those who choose to teach children with the greatest challenges will run the risk of being labeled 'inefficient,' while those who go to the leafy suburbs will look like stars," Ravitch said, citing and praising the research of Dr. Edward Haertel, one of the nation's foremost experts on assessment and testing.
Calling VAMs "too unstable and too inaccurate" to be used as a set percentage of teacher evaluations, Ravitch dismissed as "harmful and a sham" the release of teachers performance scores to the public. Florida recently released teachers' VAM scores after the Florida Times-Union sued to make the data public.
Ravitch — a former assistant secretary of education under President George H.W. Bush — also branded Secretary Duncan's Race To The Top competitive grant program as a "hoax" that is causing more "teaching to the test."
"Why are we 'racing to the top'?" Ravitch asked, arguing that the role of the federal education department should be to foster equality and meet the needs of children from America's poorest families, not foment competition with "winners and losers."
"The promise of American education is equality of educational opportunity, not a market-based system where some win and everyone else loses," Ravitch said, invoking the Elementary and Secondary Education Act of 1965, which designates federal funds for services to students in schools with high concentrations of students from low-income families.
Race To The Top, or RTTT, rewards states that adopt standards and assessments that "prepare students to succeed in college and the workplace and compete in the global economy" — both themes that are frequently championed by policymakers.
"Our children are not 'global competitors,'" Ravitch said. "They're children.
"I have two young grandchildren. I don't view them as 'global competitors.' I view them as kids," she said. "We want them to have children's lives, not live out the fantasies and mandates of politicians."
Race To The Top also rewards states that build data systems to measure student success; recruit and retain more effective teachers and principals in high-need schools; and turn around the lowest-achieving schools.
Ravitch lamented the closing of underperforming schools.
"There is no evidence that closing schools helps children learn better," Ravitch said. "If a school has low test scores, it's because children have needs. Those needs should be met. Closing the school meets no needs."
Ravitch also railed against Teach for America, or TFA, an alternative certification program that puts teachers in public school classrooms after they complete a five-week summer training institute. Ravitch said the program has a high churn rate and that the brevity of its training sends the message that teaching is not a profession.
She railed against charter school movement as well.
"We also have this hoax that the private sector does everything better," Ravitch said. "But they don't.
"They practice risk management. They kick out the low-performing kids. Where are they going to go?" Ravitch said. "They're going to come back to the public schools, where hopefully there'll be a huge enough budget to take care of them."