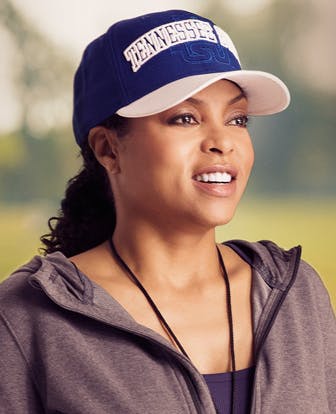 Oscar nominee Taraji P. Henson stars in From The Rough as Tennessee State's men's golf coach Catana Starks.It's not every day that the stories of ordinary people doing extraordinary things are captured on the big screen. Even so, viewers are sure to be captivated by the inspirational story of Catana Starks in From the Rough, which debuts in select theaters today. Starks is the first African-American woman to coach an NCAA Division I men's golf team.
From the Rough is a fitting title to capture the essence of Starks' story. Taking place at HBCU Tennessee State University in the late 1980s, Starks faces a number of battles in her quest to build a viable program from scratch. Under Starks' guidance, the Tigers improve, evolve and eventually win a national championship. But the road that the coach and her team travel to reach college golf's mountaintop is far from easy.
Directed by veteran filmmaker Pierre Bagley, From the Rough could end up being a landmark movie. The fact that Starks coached a men's team in a sport that historically hasn't been the most welcoming to women and minorities makes the movie's story line all the more remarkable. It was about nine years ago when Michael J. Critelli, the executive producer, first heard of Starks' trailblazing legacy. The more he learned about the legendary coach, the more determined he became to put her story on film.
Starks was a stand-out in the track and field events shotput and discus as a prep athlete in Mobile, Ala. She was also the only female saxophonist in her high school band. As a youngster, she became an expert swimmer who worked as a lifeguard. After teaching and coaching swimming, basketball and golf at Saginaw High School (Mich.) for several years, Starks got an opportunity to teach at Tennessee State, where she also coached the men's and women's swimming and diving teams.
The film features Oscar nominee Taraji P. Henson in the lead role as the iconic coach. The cast also includes the late Oscar nominee Michael Clarke Duncan (The Green Mile), Tom Felton (Harry Potter film series), Henry Simmons (NYPD Blue TV series) and LeToya Luckett (Preacher's Kid, Single Ladies TV series).
Henson's portrayal of Starks reveals the soul of a woman whose tough-love, no-nonsense approach eventually wins the hearts of her players. In the beginning, though, the players have problems fully accepting Starks as an authority figure that can actually help them. Much of their perception is based on the fact that Starks coached TSU's swimming and diving teams, but had never coached golf at the college level.
The players soon discover that not only is the new coach determined to build a winning program, but she's also a feisty quick-study who convincingly gets her points across. While they recognize that Starks is a work-in-progress as far as coaching golf, they come to admire and appreciate her grit, tenacity and passion for the game.
At first, recruiting is a stumblingblock for the new coach. There are Black golfers who have the talent to play Division I, but they're not sold on the idea of playing for a woman who has no experience coaching a college golf team. They don't believe that a coach who's learning-as-she-goes can do much of anything to enhance their development. As far as they're concerned, the idea is laughable.
Being dissed frequently in her recruiting attempts, Starks decides to go global in her search for players. The group that she recruits turns out to be a college golf version of the United Nations. These players—who come from Europe, Africa, Asia and Australia—are viewed as the misfits that nobody wanted. Yet, this unlikely mix ultimately forms an unbreakable bond with each other, and, along the way, they gain confidence in their ability to compete at the highest levels of the college game.
Aside from the challenges Starks faces in starting a program from ground zero, her biggest obstacle is gaining the confidence of her boss. Through no fault of her own, Starks has a contentious relationship with the school's athletic director, Kendrick Paulsen Jr., played by Henry Simmons. Paulsen is a condescending personality who offers Starks no encouragement and, even worse, no scholarship money.
At times, it's evident that Paulsen doesn't want Starks to succeed. It doesn't help that Starks' team plays poorly—the worst outing being a last-place finish in a 30-team tournament that includes Eastern Kentucky, Florida A&M and James Madison.
It's an embarrassing moment. The Tigers hit a lot of errant shots that either land in the water or bounce off trees located near the fairways. To make matters worse, the athletic director berates the coach for her team's lackluster performance. "Why is your team so bad?" he asks.
In another scene, Paulsen tells Starks that's she's finished as the Tigers' coach. Starks counters with an impassioned response. "This team means so much to me," she pleads. "Give me a chance!" Paulsen seems reluctant to grant the request, but decides to let Starks keep her job.
Even though Starks has a strained relationship with the athletic director, her friendship with Roger, the custodian, is the exact opposite. Roger, played by Duncan, recognizes that Starks' situation is far from ideal. She coaches a sport that nobody at the school is interested in and she coaches a group of players that everybody else gave up on. Roger is the calm voice of support and much-needed encouragement. "You get to working and start winning," Roger tells her, "and everything will sort itself out."
Throughout the movie, Starks invents ways to build credibility and instill confidence while earning the respect that coaches must have from their players. There's one scene that embodies what this movie is all about: believe and achieve. There's a sequence in the movie where the TSU van pulls up to the golf course right before the start of a tournament. Starks gives a short and riveting speech that resonates with everyone.
"We are—all of us—somebody else's table scraps," she says. "But I don't focus on the past; I focus on potential!"
Even though this movie revolves around golf, it touches on so much more than the sport itself. Despite facing insurmountable odds, Starks creates a climate of trust and well-being among a highly-diverse group of players. Once they begin to embrace the coach's vision, they don't mind setting aside cultural differences for the sake of achieving a common goal.
From the Rough sends a strong message to viewers that all things are possible for those who work hard and believe in themselves.