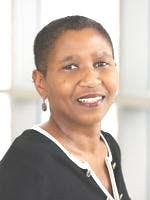 Michele Roberts says she will rely on the team concept as executive director of the NBA Players Association.LAS VEGAS ― The National Basketball Players Association has elected Michele Roberts as executive director, making her the first woman to lead a North American pro sports union.
Roberts, a mentee of renowned Harvard Law School professor Charles Ogletree, received 32 of 36 votes in a process that was completed in the early morning hours of Tuesday. The Washington, D.C., trial lawyer defeated tech industry CEO Dean Garfield and Dallas Mavericks CEO Terdema Ussery in the final vote.
"After all the hours and time (invested by) our executive committee, along with an amazing search committee that helped throughout this process, it's an unbelievable feeling to have the wonderful Michele Roberts now as a part of our team," NBPA president and Los Angeles Clippers star guard Chris Paul told reporters in Las Vegas.
The vote capped a long and arduous process to replace Billy Hunter, who was ousted in February of 2013. Roberts was one of the finalists initially offered to the rank-and-file during All-Star weekend in February, but the process was re-opened to broaden the search at the urging of some players and agents.
More than 100 players reconvened in Las Vegas this week, with the three finalists making presentations on Monday. In the end, Roberts emerged as the winner.
"They've got their union back, and I'm going to make sure that they are empowered to take their union exactly where they want their union to go," said Roberts, who has a reputation as a formidable trial attorney.
Her appointment comes at a critical time for the players, who could face another round of collective bargaining talks in 2017 if either the union or the league opts out of the current agreement. The union has struggled for years with in-fighting and a lack of organization and the players took a significant drop in their guarantee of basketball-related income ― 57 percent to about 50 percent ― in the contentious lockout in 2011.
With league revenues on the rise, a new TV contract set to be negotiated in 2016 and skyrocketing franchise valuations, Roberts will also have to try to unite a still-fractured group before the big negotiations begin in earnest.
"I am a bad woman, but I'm not that bad," said Roberts, who earned her J.D. at the University of California, Berkeley. "We are going to have a team, a very strong team, what I call a team of gladiators, that's going to help these men and women go in the direction they choose to go. It's a new day. It's not a one-person, Superman, 'I've got this.' It's going to be a team."
NBA Commissioner Adam Silver issued a statement after Roberts' selection.
"I would like to congratulate Michele Roberts on her appointment as the NBPA's new Executive Director and look forward to working with her and the NBPA Executive Committee to ensure the continued health and growth of our game," Silver said. "The partnership between our players and teams is the backbone of the league, and we are eager to continue working with the Players Association to build this relationship."