Long promoted as role models, WNBA players faced harsh league reaction after taking a public stand on Black Lives Matter.
It was the New York Liberty's final game before the women's professional basketball league went on its five-week Olympic break. The team, which is leading the Eastern Conference, lost a tough game to the Indiana Fever 82–70 at Madison Square Garden. Following the game, the members of the Liberty staged a postgame media blackout of sorts.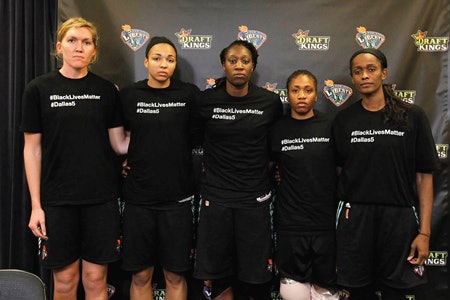 Rather than the players sitting in their individual spots as members of the media asked questions about the game, they stood together as a unit in the center of the locker room and would only address questions about Black Lives Matter. Earlier that day, news hit that the New York Liberty, the Phoenix Mercury and the Indiana Fever were all being fined for violating league uniform regulations. Each of those teams had worn black T-shirts prior to games rather than regulation warm-up shirts. The fines would be $5,000 per team and $500 per player.
"We're considered role models," said Swin Cash, a 15-year veteran of the league. "There are a lot of young girls, a lot of young African-American girls, young boys, that look up to us. It's only right that we have a voice in this and they can see that we're not just role models that can play basketball, but we're speaking about issues that directly affect us."
Diverse has reached out to several individuals in academia who teach media studies, communications and journalism and asked them what impact these professional female athletes have and why there was a public outcry over the fines.
"To not say anything about what is happening right now to some African-Americans would make the athletes out of touch with their fan base," says Valerie Black, an instructor of communication arts at Johnson C. Smith University. "Creating dialogue and awareness is critically important in a democracy.
"It's one thing for the news to cover stories like Alton Sterling and Philando Castile and for you to see everyday citizens protesting these acts of violence. It's another thing to see people who are famous also share their feelings about what is happening."
The first team to don black T-shirts was the Minnesota Lynx. The text on the front read, "Change Starts with Us. Justice and Accountability." Shortly after, the New York Liberty wore shirts noting #BlackLivesMatter #Dallas5 on the front and #_________ on the back, which they said meant the dialogue must begin and the rest of the story remains to be written.
Approximately 70 percent of the players in the WNBA are African-American. All players on the teams involved, regardless of race or ethnicity, stood united.
After the initial protests, the WNBA issued a warning, advising teams and players not to do it again. The three teams that wore black T-shirts after the warning were hit with fines.
"The WNBA preaches 'Use your voice,'" said Indiana Fever center Natalie Achonwa. "All of a sudden, we want to stand for something and we're not allowed to and get fined for it."
"I feel as though this is a touchy subject and the league really doesn't want to get into it and possibly receive any backlash from it," said Fever forward Erlana Larkins. "However, this is a platform where we should be allowed to use our voices."
WNBA President Lisa Borders told The Associated Press that while she was pleased that the players spoke out on social issues, they must comply with uniform regulations and they did not.
Within two days, Borders and the league relented. On July 23, she issued a statement of respect for the players who expressed themselves on matters important to them. The league will use the Olympic break to work with players and the players union on ways for players to make their views known. All fines were rescinded.
What this situation brings into question is how much latitude do these role models have to express what matters to them versus what matters to the league and its sponsors. Why were the fines so harsh? ESPN.com reported that the average uniform violation fine is usually $200. The average WNBA salary is about $72,000. Pay for rookies start in the $40,000 range and the league's marquee players make slightly over $100,000.
"I always tell my students to follow the money," says Ron Thomas, director of the Journalism and Sports program at Morehouse College. "What is the financial impact of the fine?"
NBA players have waged similar protests without fines — wearing I Can't Breathe and #WeWantJustice slogans on sneakers and shirts. At the recent ESPY Awards, Chris Paul, LeBron James, Carmelo Anthony and Dwayne Wade encouraged athletes to be vocal on important issues.
"Black women, however, are dismissed for their activism," says Dr. Aisha Durham, an associate professor of communication at the University of South Florida, a cultural studies scholar. "They not only are disciplined for their politicized Blackness but also their defiant womanhood — both of which are seen as out of place because both are supposed to be docile."
What players have mentioned again and again is that the league has supported a multitude of issues — breast cancer awareness, gay pride and go-green initiatives and distributed T-shirts to the players after the Orlando tragedy.
"We're not trying to be defiant," said New York Liberty guard Tanisha Wright. "We just want a little support on something that affects us all."
Black says watching the players of the WNBA express their First Amendment right of free speech is beautiful. She feels this story caught fire after the fines were announced and the traction it gained on social media is a powerful statement.
"They are more than athletes. They are women who could have very well been Sandra Bland," says Black. "I want my students to give more of a critical eye to social media and understand how powerful that tool truly is in communication."
In educating the next generation of journalists, Thomas does say it is crucial students understand the difference between blogging, op-eds and reporting. While reporters may feel a personal connection to the story, they still have to report on it from as objective a standpoint as possible.
Thomas teaches a sports reporting course. If this story had taken place during the school year, he says he would have discussed it with his students both from a historical standpoint and because "players are more than what occurs on the court."
"As a media scholar, I can tell you demonization of these courageous Black women athletes is not at all different from the ways Black women are misrepresented across media," says Durham. "Like Serena Williams, who has publicly supported Black Lives Matter, these young players are a part of a broader antiracist movement that is demanding to be seen on their terms. Fines be damned. They are refusing to be silent — at any cost. For them, this is a matter of social justice."
Indiana Fever guard Briann January says racial issues directly affect the majority of players in the WNBA.
"It's affecting our people. It's affecting us," she says. "We're about trying to create change, making a better world and using our platform to do it."
Conversations have begun. WNBA resume play on August 26.