Fans don't realize it, but Colin Kaepernick knows there are more important things in life than football.
The once proud athletic star now demoted on the field has risen to new heights, per the cover of Time this week. And all for asserting his human privilege into a more important arena — America's civil rights debate.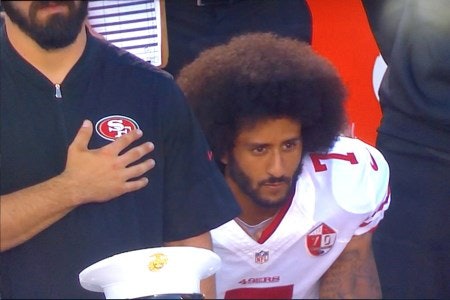 And he did it, not by taking to the streets, not by throwing objects, shouting and attracting the ire of police and counter-protesters.
He did it silently. Peacefully. First, by simply remaining on the bench, sitting. And when that was considered an affront, he did what they do when at rest in an athletic event. He "took a knee."
It's also something we do in prayer. As we hope for a better day.
The whole act transformed Kaepernick into a kind of football version of Gandhi or MLK.
Not just because of what he did.
It's because of the reaction of everyone else to his bended knee.
The outright hate displayed by football fans is one thing. But the fanaticism extends to those who proclaim to believe in patriotism and the American way. Maybe the way it was in the Jim Crow South. Or back in the day when loyalties were tested, and a deranged patriot might blurt out, "America, love it, or leave it."
But that would be a total repudiation of the Constitution.
Even Donald Trump, the tycoon running for president, expressed his profound misunderstanding when he spoke about Kaepernick's actions: "I think it's personally not a good thing. I think it's a terrible thing. And you know, maybe he should find a country that works better for him, let him try. It won't happen."
Because Trump apparently believes an America without constitutional rights to dissent and free speech should be just fine for those of us like Kaepernick ― people of color concerned with their civil rights, especially when it comes to police brutality.
That's the way to watch the debate on Monday.
With Charlotte and Tulsa so fresh in our minds, Kaepernick is more relevant than ever.
Ask yourself which candidate sees America the way it should be for all.
And before the debate starts, and they likely play the national anthem, don't rise reflexively, as if it doesn't matter.
It does.
Think about it. Wherever you are. Rise if you must. Kneel, if you feel it.
Kneel in solidarity and in prayer instead, in respect for the better America, with hope for a better day, and the next best leader for our nation.
Emil Guillermo is an award-winning journalist and commentator who writes for race, culture and politics at http://www.aaldef.org/blog