Shortly after Nike's new ad campaign with Colin Kaepernick began airing, the College of the Ozarks in Point Lookout, Missouri, decided to drop the clothing-line as its athletic apparel sponsor.
"In their new ad campaign, we believe Nike executives are promoting an attitude of division and disrespect toward America," C of O president Jerry C. Davis said in a statement Wednesday. "If Nike is ashamed of America, we are ashamed of them. We also believe that those who know what sacrifice is all about are more likely to be wearing a military uniform than an athletic uniform."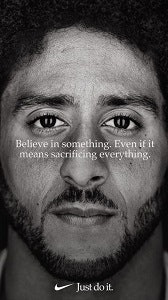 Nike released the full ad campaign, which also features athletes like Serena Williams and LeBron James, on Sept. 6 before the NFL season opener between the Atlanta Falcons and Philadelphia Eagles. The company decided to make Kaepernick the spokesman in honor of the 30th anniversary of its "Just Do It" ad campaign, according to Bleacher Report.
The NFL released a statement in response to the ad campaign created by its main clothing sponsor, saying, "The National Football League believes in dialogue, understanding and unity," the league told Ian Rapoport, national insider for the NFL Network. "We embrace the role and responsibility of everyone involved with this game to promote meaningful, positive change in our communities."
Last year, the college issued a new national anthem policy mandating that its athletes, players and the staff of its opponents stand and "show respect for the American flag and national anthem."
"Nike is free to campaign as it sees fit, as the College is free, and honor-bound by its mission and goals, to ensure that it respects our country and those who truly served and sacrificed," said Dr. Marci Linson, vice president for patriotic activities and dean of admissions at the College.
Monica Levitan can be reached at mlevitan@diverseeducation.com. You can follow her on Twitter @monlevy_.