Coaches whose teams end the basketball season with a 16-14 record and don't win their conference's regular season or tournament championship don't earn a trip to the Final Four, let alone receive an award.
Hampton University women's basketball coach David Six is the exception. Six had a stroke in June but returned to guide the Lady Pirates through their first season in the Big South Conference since leaving the MEAC last summer. He received the U.S. Basketball Writers Association (USBWA) Pat Summitt Most Courageous Award last week, during a luncheon at the NCAA National Semifinals in Tampa, Florida.
"For all that Pat Summitt has done for women's basketball, to be associated with an award that has her name is amazing," says Six, who owns to being in his 50s.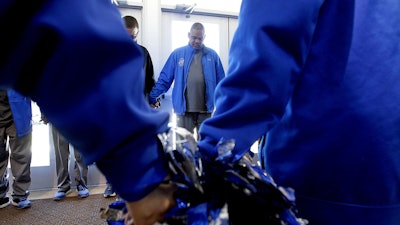 Pat Summitt, the legendary Hall of Fame Tennessee women's coach, had the award named after her in 2012 when she received the award in the wake of her battle against Early-onset Alzheimer's that was revealed the previous summer.
Summitt, the first women's coach to surpass 1,000 victories, ultimately succumbed to the disease in June of 2016.
Six, who surpassed the 200-win mark in November and is No. 1 on Hampton's career victory list, felt some discomfort and heaviness in his right arm while driving his wife Angela to Johns Hopkins Hospital in Baltimore. The couple had made the four-hour drive numerous times while Angela was being treated for Polymyositis, a muscular disorder that resulted in her having to use a walker, and Six had developed a routine. He would stop at a Wawa convenience store in Richmond, Virginia, or Fredericksburg, Virginia. On this trip, the Sixes had recently purchased a new Honda Pilot "with all the latest bells and whistles," and he was so absorbed in dickering with them that he didn't stop. About an hour from Baltimore, when he tried to touch the iPad-like console, his arm felt like it weighed 100 pounds. He dismissed it as stiffness from not having taken a break as he normally did.
However, shortly after he arrived at the hospital, he knew something was wrong.
He parked outside the neurology building and got out the vehicle to retrieve his wife's walker from the back, but he was "staggering like a drunk man."
"I was like, 'what's wrong with me," Six says.
He fell to the ground, landing on his shoulder. A doctor who happened to be in the parking lot asked if he was OK, and Six said he was all right.
"I was in denial,'' Six says.
He tried to get up but again he fell. At this point, he was right up against the time for Angela's appointment. They called a friend of Angela's at the hospital who got security to bring a wheelchair for Six. He sat in the wheelchair trying to get himself together while Angela, accompanied by her friend, kept her appointment. They pleaded with him to take an ambulance to the emergency.
"I was like, 'Why do I need an ambulance? I'm at the hospital,'" he says.
Not being familiar with the Johns Hopkins campus, Six thought the Emergency Room was a short distance and he told them he would walk. He was wrong and ended up walking at least a half mile across the complex. When he arrived at Emergency, he flipped a chair over when he tried to sit down.
"The next thing I know, I'm on a gurney with people running through the hospital," he says. "At this time, I don't know what's wrong with me, but I'm saying to myself, 'this must be serious.'"
Six soon learned just how serious his condition was. The nurse in charge asked him to touch his chin. He did. She then asked him to touch his nose, and he did. Next she held her index finger about a foot in front of him and asked him to touch it. He couldn't.
"My arm was all over the place," he says.
That's when reality struck.
"The nurse said, 'Mr. Six, I think you had a stroke,'" Six says. "I'm like, 'Get out of here. I was just in the pool yesterday working out.'"
Six didn't display the classic symptoms of a stroke. He didn't have slurred speech or a twisted face; he didn't have cognitive problems and he didn't lose consciousness.
"If you saw me that day, you wouldn't have thought I had a stroke," he says.
A CT scan confirmed the nurse's suspicion. He was given a medication called Tissue Plasminogen Activator to dissolve the blood clot that caused the stroke and made him lose his balance. TPA is only effective within the first three hours of symptoms. The following day, Six was unable to move his right side. He was in intensive care for three days and hospitalized for an additional week. His wife's condition was at the point that she was hospitalized as well, and they shared a room.
Six spent six weeks at Johns Hopkins rehabilitation center undergoing physical and occupational therapy. During that time he had to re-learn many of the skills that had been second nature to him since childhood. He was unable to perform the simplest of functions, such as walking and tying his shoes. But he never gave up hope of returning to coaching.
"Hampton going into a new conference was part of it," he says. "I definitely wanted to see that through. But I also wanted to see if I could still do it, to see if I could take the rigors of coaching, to go through a season, go through airports, get up and down on the bus, get on the sidelines, make game plans, get a point across. It's something all coaches love to do. It's a part of you. You want to get back to it."
Six says faith in God is what saw him through.
"There's a song by Marvin Sapp called 'Not The Time, Not The Place' that kept playing in my head when I was in the hospital, especially when I was feeling bad and feeling sorry for myself,'' he says. "I would say God put two good people in my life – my occupational therapist and my physical therapist. My physical therapist was into sports and we hit it off right away. He really challenged me. I don't want to go as far as saying rehab was fun, but he was able to take my mind off it while I was doing it and I became determined to get back."
Six says learning to walk again is unlike anything he has ever experienced.
"It's a lot different knowing how to walk and then waking up one day and not (even) knowing how to walk," he says. "It's the anxiety. A baby has the excitement of trying to walk. For somebody who is already walking and can't walk, it's really nerve racking. You have to learn how to put your leg up and down, how to go up steps, how to turn around. My balance was down. So I had to learn how to keep my balance. It was definitely tough."
When Six was released to go home, he and his wife went to live with their daughter in Accokeek, Maryland, who had recently given birth to twins. He stayed a week before deciding to return home, in spite of his wife and daughter's protests that it wasn't safe for him to be alone.
"I thought it was unfair for my daughter to take care of four children," he says. "They said I might fall. I told them if I fall I can't fall no farther than the floor and I wasn't going to go through the floor. I would have to pull myself up."
Sure enough, when Six returned home he did fall a couple of times, and just as he said he didn't go through the floor and he got himself up. He did have a niece who would look in on him but he grew impatient with her at times. Once she parked his truck in the wrong place, so he went out and moved it himself. Another time he needed to go to the grocery store. She said she would take him; it took her too long to come so he called Uber and went alone.
"When she got to the house and I wasn't there she called and asked where I was," Six said. "I told her I was at Walmart. She wanted to know how I got there, and I told her Uber and 'I'm riding in the same buggy I'd be riding in if I was with you."
Slowly Six started doing things to regain his independence. He had already demonstrated during occupational therapy that he could cook. He also began cleaning the house.
"I didn't want to be a burden to anybody or anything like that," he says. "I just learned to do stuff on my own. "If I had to get behind the couch, I would drag it with my left arm and sweep behind me. That was good therapy."
Six, who now has a hitch in his walk and suffers with frozen shoulder as a result of the stroke, says his best moment was the first game he coached after returning, a 72-68 road win against Florida Atlantic.
"Just knowing I made it all the way back," he says, recalling how during therapy sessions patients were asked to set short-term and long-term goals. "My long-term goal was my short-term goal – to go back to work when I got out of therapy. And they would say, 'well, I don't know, maybe in a year.' After they said that for about three sessions, I told them they might need to put something in my IV because I'm not going to sit here and feel sorry for myself, why me and all that stuff."
Six coached the entire season without missing any games. But he had to make some concessions. He delegated more responsibilities to his assistants, allowing them to handle day-to-day operations, and he sat more during games and practices than he did in the past.
"The team handled it great," he says. "The assistants did a great job getting the kids in shape. The kids were shocked at first. When they called and heard my voice and I was telling them I was going to be OK, they moved along and got ready for the season. When I returned I had to pick and choose my battles. I didn't have as much stamina, especially in the beginning. I never got to 100 percent physically. But I got to where I could do my job effectively."
His lack of stamina didn't prevent him from getting on the referees during games if he felt it was warranted.
"I'm that kind of coach," he says. "I said what I had to say when I had to say it. When I felt like I had to say some things, I said those things."
The Lady Pirates finished third in the Big South regular season standings with a 12-6 conference record and were in contention for the championship going into the final weeks of the season. But that's of little consolation to Six, who guided the Lady Pirates to six MEAC Tournament championships in nine seasons, five NCAA Tournament appearances, five MEAC regular season championships and one WNIT appearance.
"I'm about championships," he says. "I definitely wasn't satisfied with the season. But I also have to keep in perspective not only were we in a new conference, (senior point guard, the team's best player and leader) K'Lynn Willis didn't play all year."
Six expects the Lady Pirates to be better next season and to be physically able to do a better job of coaching than he did this season. He continues to take physical therapy and is able to do many of the things he was unable to do during the season. He walks all over campus and even acknowledges he "won't win any races."
A series of events came together to save Six's life. Had the stroke occurred while he was home, he may well have gone to bed to sleep it off. Had he stopped at one of the Wawas as he usually did, he might have had the stroke in the convenience store parking lot, or he would have arrived at Johns Hopkins outside of the time frame for the medication to be effective. It just so happened that the stroke occurred in the parking lot of one of the top hospitals in the world and a doctor just happened to be close by. He has made some concessions to his condition but vows never to give in to it.
"I'll never accept it," he says. "I know where I came from. I couldn't even write. I can write now. Less than a year ago, I couldn't tie my shoes. I can tie my shoes now. Things are coming back; it just takes a little while. I'm experienced enough to delegate. I can still effectively do my job. I can make my point on the court. I can work kids out. I'm not working out, but I can get across to them what they need to do. Through experience I've learned to be effective. I'll be the first to admit coaching is a grind, so you need to be in the best physical shape possible. I plan to get to that through rehab this summer. I'm going to get to 100 percent or as close as I can to it.
This article will appear in the April 18, 2019 edition of Diverse.