North Carolina A&T State University will join a growing list of HBCUs selling alcohol inside their football stadiums when the defending MEAC and Black College Football champions host backyard rival Elon University on Saturday.
The North Carolina A&T board of trustees unanimously approved a resolution during the summer permitting alcohol sales at most of the school's sports venues, taking advantage of a new state law allowing the sale of alcoholic beverages at college sporting events to expanding on its practice begun a year ago.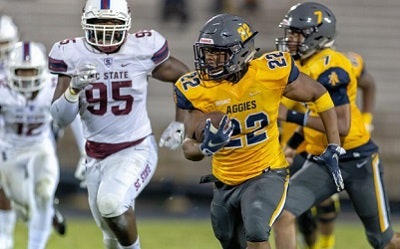 Alcoholic beverage sales inside BB&T Stadium will be limited to wine and beer as North Carolina A&T becomes at least the 10th school among the country's 21 Division I HBCUs selling alcohol at football games, and the second in the MEAC.
Norfolk State University began selling alcohol at its games two years ago.
"It's an evolution of what intercollegiate athletics is moving to. in terms of what adult fans want in terms of the fan experience,'' Mid-Eastern Athletic Conference commissioner Dennis Thomas said. "It will be a trend if it's not already. That's one of several things that go into the fan experience. It has evolved over time. That's what fans want. You have to evolve with the times. Once upon a time there was prohibition, but that was not what the people wanted."
Six of eight Southwestern Athletic Conference member schools responding to a survey by the conference office – Alabama A&M, Alabama State, Grambling State, Prairie View A&M, Southern and Texas Southern universities – indicated they sell alcohol.
Alcorn State and Mississippi Valley State universities don't sell alcohol; Jackson State and Arkansas-Pine Bluff universities didn't respond.
Tennessee State University, an Ohio Valley Conference member, allows alcohol sales when it plays at Nissan Stadium, home of the NFL Tennessee Titans, but not when the Tigers play on campus at Hale Stadium.
Hampton University, a member of the Big South Conference, sells alcoholic beverages in an adult zone.
North Carolina A&T is expanding on its practice from last season, when it operated a "beer garden'' where wine and beer were sold in a tented area that consisted of about a half-dozen tables with chairs and could be consumed only there.
This year, wine and beer will be sold at booths located at either side of each end zone and in a tent at the north end the stadium.
North Carolina A&T director of athletics Earl Hilton said the change was made as an amenity for fans and for fan safety.
"Our hope is that people will be less inclined to engage in unregulated pre-game consumption and in-game consumption at private tailgate events, since we will have that amenity available in the stadium in a more controlled environment,'' Hilton said.
Marty Miller, Norfolk State's director of athletics, said his school was looking to increase revenue when it began alcohol sales, but the move hasn't reaped the financial reward hoped for.
"For us, it's just been something we added for the fan experience,'' Miller said. "But we haven't realized any great revenue from it. It's something that's been slowly catching on for us. I have no idea why it's been slow. I thought it would be more popular. It's something we're going to continue, hoping it will get better each year.''
Grambling is selling alcohol for the second season, but it's not allowed to be sold at the general concession stands. Instead, fans must show proper ID when making their wine or beer purchases, there is a two-drink-per-purchase limit and sales end in the third quarter.
Dr. David "Rusty'' Ponton, Grambling's director of athletics, says his school adopted alcohol sales basically because all the other state schools in Louisiana were allowing it.
The Thurgood Marshall College Fund doesn't have a position regarding alcohol sales by its member schools. And president and CEO Dr. Harry L. Williams said he doesn't see a problem with the practice.
"Our schools are always looking for ways of generating revenue,'' Williams said. "I look at this as another way for potential revenue. It's nothing new. It might be new to HBCUs. As long as you are appropriately selling it to the appropriate audience, I don't have an issue with it.''