Some Bethune-Cookman University football players have started a petition to reinstate Ed Reed as the Wildcats head coach after the former NFL star announced Jan. 21 that the school would not be ratifying his contract, Sports Illustrated reported.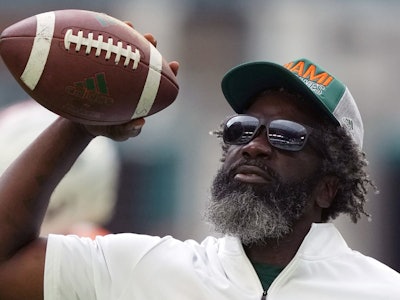 More than 20 players have signed the petition, which called Reed's dismissal unjust, according to a Twitter post from Wildcats running back Branden McDonald.
"We firmly believe that the abrupt dismissal of our newly hired head coach Ed Reed is unjust not only to the student-athletes but to the entire BCU family, community and doesn't align with our founders legacy," the statement on the petition read. "We would like to respectfully and firmly request his immediate reinstatement. We were witnessed to tremendous growth and a new direction in a short period of time."
Reed had been tapped to be head coach on Dec. 27. He said that he was not leaving voluntarily.
"I am NOT withdrawing my name as the Head Coach at Bethune Cookman," Reed posted on Instagram. "The administration and the AD are forcing me out."
BCU then released a statement, saying that it would not proceed with contract negotiations.
"After undergoing a detailed assessment and review of the state of our football program, we have determined that it is in the best interest of our university, athletics program, and football student-athletes to reopen the search and identify the next leader of Bethune-Cookman Wildcats Football," the BCU statement read.
Reed has been outspoken about conditions at some historically Black colleges and universities (HBCUs) like BCU.
"We're going to try to help y'all too man. Because I know a lot of HBCUs need help. I'm just here to help here first," Reed said on Jan. 15. "I see it all too clearly. All of our HBCUs need help. And they need help because of the people who's running it. Broken mentalities out here. I'm going to leave you with that."