The University of Tennessee football program is being reprimanded for recruiting violations and direct cash payments to athletes, reported reported.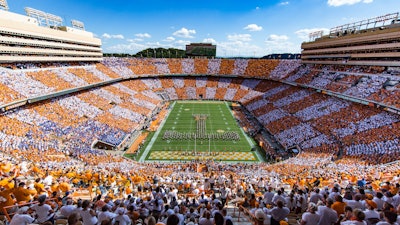 As punishment for offenses such as cash payments totaling about $60,000 given directly to recruits' parents, the NCAA imposed a multimillion-dollar fine; took away scholarships; and barred former Tennessee Coach Jeremy Pruitt from being hired without N.C.A.A. approval for six years. The school avoided a harsher penalty by cooperating well with investigators.
The imposed $8 million penalty is meant to equate to the university's potential earnings from 2023 and 2024 season bowls and the NCAA pulling several scholarships from the school during the probationary period may slow recruiting.
However, per the imposed sanctions, the school can still compete for a conference or national championship.
"We recognize this was a serious case, and the penalties we received from the Committee on Infractions are consistent with what we expected and negotiated with the NCAA enforcement staff last year," said Dr. Donde Plowman, chancellor of the University of Tennessee.
The NCAA's decision in this case demonstrates a potential shift in how the governing body adjudicates violations. Its 2022 constitution calls for the organization to not "punish programs or student-athletes not involved nor implicated in the infraction(s)."