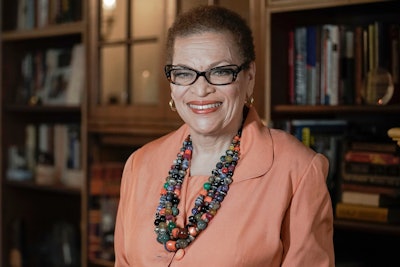 BALTIMORE—The National Association of Student Personnel Administrators (NASPA), a student affairs professional organization, kicked off its 2022 conference this week with in-person and virtual sessions focused on meeting students where they are.
Tuesday's keynote speaker was Dr. Julianne Malveaux, dean of the new College of Ethnic Studies at California State University, Los Angeles (Cal State LA). She stressed the importance of listening to students at a turbulent moment in higher education.
"Right now is a really hard time for young people," said Malveaux. "Many of them are extremely anxious about COVID and the labor market. Where are they going to work after graduation? Will they have enough financial aid? Many of our students are also poor and suffer from food and housing insecurity."
At Cal State LA, more than 80% of students will be the first in their families to earn a bachelor's degree. Many students are also Pell Grant recipients. Malveaux is also the former president of Bennett College, a private historically Black liberal arts college for women located in North Carolina.
"Academe was designed to be an ivory tower for wealthy white men, frankly," she said. "What I tell folks is I want to deliver higher ed unusual, not higher ed as usual. We have to learn how to break some barriers. We have to make sure everyone feels at home."
As an economist, Malveaux has researched how the wealth gap intersects with racial inequities. To close that gap, she pointed out that more financial literacy is needed among students as well as student affairs administrators in an often underpaid field.
"If we're broken vessels because of our own financial issues, then we can't heal our students," said Malveaux. "How far away are you from retirement? Have you saved enough money? If you're not financially secure, then you can't help students be."
Another Tuesday session took a more micro view at a new, co-curricular transfer program at Adelphi University in partnership with Nassau Community College (NCC). Known as the Nassau-Adelphi Gateway, this partnership aims to prepare NCC students for campus life at Adelphi to strengthen the transfer pipeline.
"NCC is our largest feeder institution to Adelphi, and we know that students who come in with an associate's degree do better than those without," said Dr. R. Sentwali Bakari, vice president for student affairs at Adelphi University. "This program seeks to make that transition from NCC to Adelphi more of a seamless experience for students."
Anna Zinko, assistant dean for students and community engagement at Adelphi University, added that some of the largest enrollment drops in the pandemic have been at community colleges as well as among Latinx and first-generation students. Yet co-curricular transfer support programs that are mutually beneficial to four-year and two-year institutions could help stem these drops.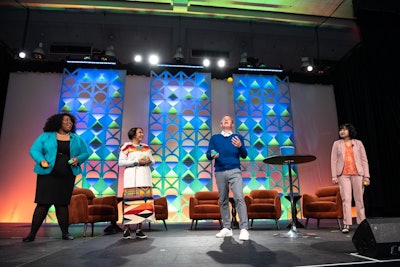 The Nassau-Adelphi Gateway program launched in fall 2021 with about 27 NCC students living for one year on campus at Adelphi while they complete their associate's degrees at NCC.
"When we thought about how we were going to design this program, we knew that we wanted the student experience to be at the forefront," said Zinko, who noted that students were paired with a mentor who worked in student affairs at Adelphi to help guide them.
Adelphi provided a shuttle between their campus and NCC while granting gateway students access to Adelphi facilities such as the gym. To incentivize these students to transfer to Adelphi, the Adelphi application fee was waived for gateway program participants. NCC also does not have residence halls, so opening up Adelphi dorms to NCC students can address housing shortages.
Given the program is only in its first year, Bakari and Zinko said that the program is still being refined. Yet one key lesson has been the need to streamline communications for students, who juggle an Adelphi email, NCC email, and their personal email.
To Malveaux, this may be one simple example of meeting students where they are in student affairs work.
"Why do you have two ears and one mouth? Because you need to listen twice as much as you talk," said Malveaux, referring to a famous saying during her keynote. "That's what I'd say about you working with your students. You have to help them become the person they will be."
Rebecca Kelliher can be reached at rkelliher@diverseeducation.com.